Custom Bridges
If we do not currently offer a Program Bridge for a program you want to bridge to, you may be able to add a custom bridge. This is useful if you have the technical ability to write output files and don't wish to wait for Open Dental to write the bridge.
Examples:
Bridge to Outlook with a path of outlook.exe to launch Outlook. Even add a button for Outlook to a toolbar. Even add a command line argument to the bridge (e.g. [PatNum], and create a macro in Outlook that recognizes the command line argument and opens up the patient in your contact list.
Bridge to Excel.
Bridge to your own custom program, e.g. a web-based program that you use to build special customized treatment plan layouts. Your program could take the PatNum, use queries to load all the other necessary info, and function like an extension of Open Dental.
Add a toolbar button or Reports dropdown menu option that launches an internet browser and loads a URL (e.g. a reporting URL). See Add a URL below.
Add a Custom Bridge
Only add custom bridges for bridges we do not already support.
In the main menu, click Setup, Program Links.
Click Add.
Enter the settings for the custom bridge. Refer to the option descriptions on Program Links.
Click Output File to build your own output file (for example, .txt or .ini) for custom program bridges. This requires technical knowledge of output file builds and should only be attempted by those with the required knowledge. Don't create an output file for bridges that do not require one.
Output File Path: The path to the output file (.ini or .txt). Click [...] to select the file on your computer.
Output Template: The body of the output file.
Replacements: Map data fields in the bridge output file to patient data fields by inserting Replacement Fields. Select field then click OK to insert field at cursor. Example: PATID (bridge) maps to [PatNum] in Open Dental.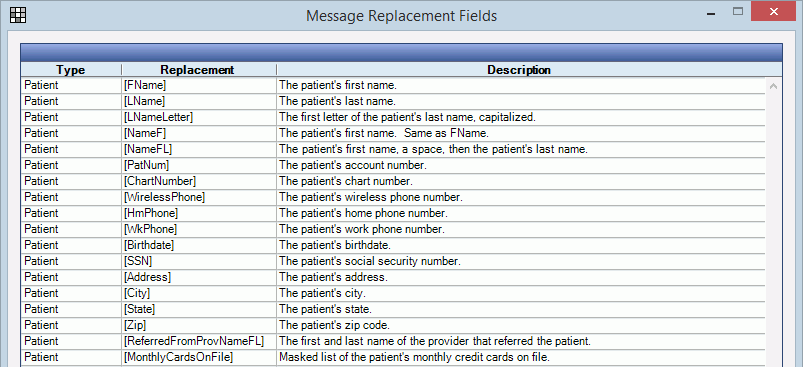 Click OK to save the custom bridge.
Add a URL
Use custom bridges to add a toolbar button or Reports dropdown menu option that launches an internet browser and loads a URL (e.g. a reporting URL).
On the Program Links window, click Add to add a custom bridge.
Description: Enter the name of the bridge. This name will show in the Program Links list.
Check the Enabled box.
Path of file to open: Enter the website URL to launch.


Text on button: Enter the text to show in the Reports menu or on the toolbar button.


Add a button to these toolbars: Select where to display the button.


Click OK to save.