Definitions: Blockout Types
Use the Blockouts definition to set up the text and background color of Blockouts available in the Appointment schedule.
Note: To customize the color of blockout text, see Definitions: Appointment Colors.
Add or Edit Blockout Types
Click Setup, Definitions, then select Blockout Types.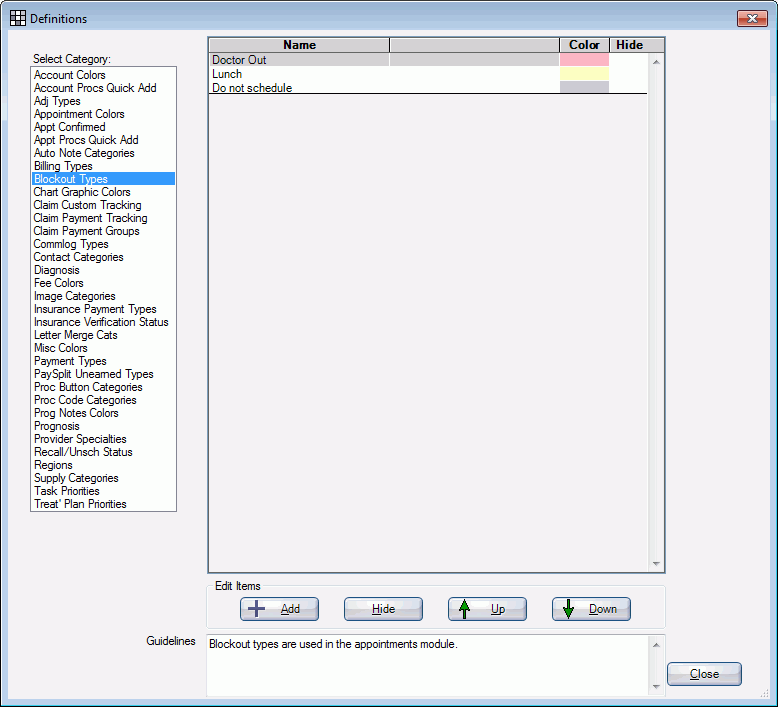 Click Add to add a new blockout type, or double-click a blockout type to edit.

Name: Enter a name for the blockout. This will show on the appointment schedule.
Color: Click the color box to Select the Background Color of the blockout.
Click OK to save.
Reorder Blockout Types
On the main Definitions window, highlight a type, then click the up/down arrows.
Hide a Blockout Type
There are two ways to hide a type so it is no longer an option.
On the main Definitions window, select the item, then click Hide.
On the Edit Definition window, check the Hidden box.
We recommend also moving the item to the bottom of the list. To unhide an item, open the Edit Definition window and uncheck the Hidden box.