Enabling eRx / Identity Proofing
An Open Dental support technician will walk you through the process of enabling eRx Basic or Comprehensive version and identity proofing (IDP). Contact us to schedule an eRx setup appointment. The provider must be present at the appointment.
This page describes the general steps. We recommend updating to the most recent build of the stable version of Open Dental.
It will take approximately one hour to complete IDP and 2 business days to approve credentials. The following documentation will need to be submitted so have them ready before your appointment.
In general, the following steps will occur.
Enable eRx for the provider in Open Dental and acknowledge fees.
The support technician will activate eRx and walk the provider through IDP with Verizon UIS.

Provider will enter personal contact information.
Provider will set up at least two methods of receiving one time passcodes (OTP) (e.g. via text messages, voice calls, an app, etc.).
Provider will set up a Verizion UIS password and username. It is

illegal

for anyone other than the provider to know the Verizon username or password.
Provider will prove identity using public information only they should know.
Provider will further confirm identity by submitting credentials. See Credentialing.
Enable eRx for the Provider in Open Dental / Acknowledge Fees
This must be done by someone with the Edit Provider Permission.
In the main menu, click Lists, Providers. Double click the provider to open the Edit Provider window.
Check the Electronic Prescriptions box.

Click OK. A confirmation message will show.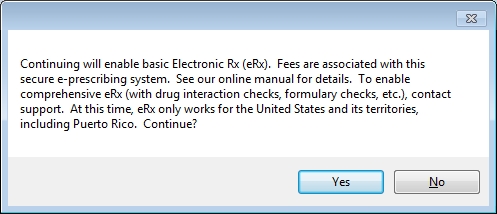 Click Yes to acknowledge eRx fees and continue.
In the Chart module, click eRx to create your eRx Account ID. This happens behind the scenes. You will receive a message that IDP must be completed. Click OK to close.
Identity Proofing (IDP)
Every provider must complete IDP to electronically transmit prescriptions. It is required by Surescripts, the electronic pharmacy network, and done through Verizon's Universal Identity Service (UIS), which is a separate division from mobile phones. There is an additional one-time IDP fee that will be automatically added to the provider's next statement. See Fees.
Please allow up to one hour of uninterrupted time to complete the process.
Below are the general steps you will complete with the help of an Open Dental support technician.
Open the Verizon UIS interface.
Enter provider's personal contact information (NOT practice information). Click Next when done.
For Email: Enter an address that is not shared with anyone else in the practice. Each provider can only use one email address. This email will now be associated with the Verizon UIS account; remember it.
For Phone:

Enter at least two numbers

that will be used as options for receiving one-time passcodes. We recommend entering a cell phone for text and/or voice messages and a landline as a backup for a voice call. Email is not allowed as an option.
The HealthCare Info tab will not show because licensing information is already entered in Open Dental.


Create a Verizon UIS user name (cannot be changed), password, and pin, then click Next.

Remember this username and password as the Verizon UIS credentials.

They need to be reentered to receive one-time passcodes and when signing up for EPCS (optional). Do not share it; federal law states the provider is responsible for misuse.
Select and enter security questions. Click Next.
Click the checkbox next to

at least two contact methods/devices

that will be used to receive 6-digit, one-time passcodes (for authentication). The options available depend on the phone numbers entered in step 2.
- Text message to a mobile phone number (recommended)
- Voice call to a direct phone line (recommended as a backup)
- An application for smartphone, tablet or other devices (not recommended for single time use). Click Setup then choose the application. When prompted enter the Verizon UIS activation code. If using an iPhone, see 'Workaround for iPhone App' at the bottom of this page.
For each device/method selected, click Yes. The provider will receive a text message, phone call, or notification that includes a one-time passcode. Enter it when prompted and click OK. A checkmark will confirm your selections. Click Next.
NOTE: It is critical that you set up at least two methods of receiving passcode. If unable to retrieve a passcode, the account will become invalid.
Enter the last four digits of social security number and date of birth.

When you click Next the provider will have only 2 minutes to answer 5 personal questions that confirm provider identity.
Answer the identity verification questions. You have only two minutes.
If the provider's vetting level is determined to be 'high' the Safe BioPharma page will open. The certificate is a page of random characters that provide an unbreakable encryption method. Enter the Verizon UIS password and click Next.
The Subscriber Agreement message will show. Click Sign to sign the certificate if you agree to the terms.
Once the certificate is approved, you will receive an email. The approval usually takes less than 30 minutes once the agreement is signed. Proceed to Submitting Credentials to complete the IDP process.
Note: If the vetting level is determined to be 'medium', follow the steps on-screen to submit a notarized attestation form to Verizon UIS at 1-800-701-9814 (fax). This will increase processing time by 24 hours.
Credentialing
This process entails submitting credentials to further confirm provider identity. See Credentialing. Once finalized, you can begin using eRx and sign up for EPCS.
Fobs
Fobs are a device option for receiving one time passcodes. To obtain a fob, email providerverification@newcroprx.com. Identify yourself as an Open Dental provider going through IDP who needs a fob. It will be sent priority mail for a fee of $35.