Print Routing Slips
Open Dental is designed for use in a paperless office, but there are still some offices that like to use printed routing slips. Open Dental can print a batch of routing slips for all appointments for an entire day. To customize routing slips, see Routing Slip Setup.
Note: To control user access to this report, see Report Setup - Security Permissions.
There are two places to print routing slips:
From the Appointments Module

Right click on an appointment, then click Routing Slip.
Click the Print Icon. Print all routing slips for the day, or for the current view.
From the Reports window

In the main menu, click Reports, Standard.
In the Daily section, click Routing Slips.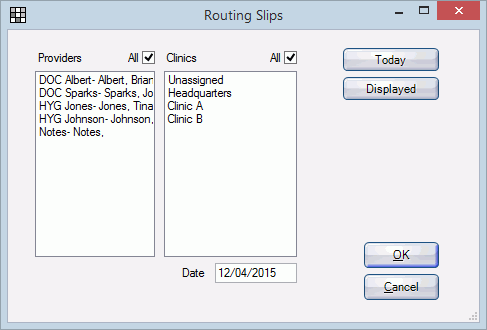 Select the criteria.
Providers: Highlight the Providers to print routing slips for. Check All to select all providers.
Clinics: If using Clinics, highlight the clinics to print routing slips for. Check All to select all clinics.
Date: Enter the date. Click Today to insert today's date, or Displayed to insert the current date shown in the Appointments module.


Click OK.
Below is an example of the internal Routing Slip.