How to Reset the Verizon UIS Password
If you forget the Verizon UIS password used for Electronic Prescriptions, you can change it in the Verizon UIS interface. When a password is reset, the Safe-BioPharma Certificate is re-issued in a pending status and the subscriber agreement must be re-signed. If you do not re-sign within 5 days, you will be locked out.
Note: It is illegal for anyone other than the provider to know the Verizon username or password.


In your browser, clear cookies and the cache.
Open the Verizon UIS interface in your browser. https://universalid.verizon.com/uid/index.php/slogin/profile/ncrp.
Click Forgot Password, then follow the instructions on-screen to reset the password. You will need to know your username and answer some security questions.
If needed, log in to Verizon UIS again.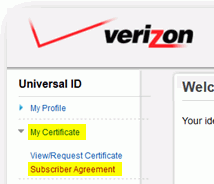 Choose My Certificate, then Subscriber Agreement.
On the Subscriber Agreement window, enter your new Verizon UIS password to electronically sign the Subscriber Agreement, then click Next.

Click Sign.
Once the certificate is approved, you will receive an email. The approval usually takes less than 30 minutes once the agreement is signed.