Web Sched Setup
Web Sched is a paid service. You must be on support and have an active registration key. See Fees for pricing.
There are five required steps and one optional step when you set up Web Sched.
Contact Open Dental to sign up.
Update to the latest stable version.
Set up the eConnector (shared by all eServices and only needs to be done once).
Enable Web Sched.
Customize reminder email messages.
Enable automated Web Sched reminders (optional).
Enable the Service
Click Enable.


Operatories Considered: Lists the operatories that are considered when determining available time slots. Only operatories marked as 'Is Web Sched' are considered. Double click a row to edit operatory settings. See Operatories.
Recall Types: Preview appointment length and time patterns for different recall types. To change recall type settings, double click a row. See Recall Types.
Providers (under Operatories Considered): Select how the provider will affect available time slots.
First Available: Show available time slots for all providers.
Primary Provider: Show only available time slots for the patient's primary provider.
Secondary Provider: Show only available time slots for the patient's secondary provider.
Last Seen Hygienist: Show only available time slots for the last hygienist seen by the patient.
Available Time Slots: Preview open time slots in Web Sched operatories based on the filter criteria set on the right. There are several settings that determine 'available' openings. See also Web Sched Logic.
The date determines the first date of available openings that show. Available time slots for one month will show.
You can also filter the list by recall type, provider, or clinic. This filter affects the preview only and does not affect available time slots.
Other items that affect available time slots:
Schedules: The schedule should extend as far into the future as you want to schedule appointments. You can't schedule recall appointments 6 months in the future if there is no schedule set 6 months out.
Every provider should have a schedule.
Time blocks should be assigned to operatories (indicates open/close times). For providers not assigned to an operatory, assign their time blocks to operatories.
Patient recall status: By default every patient is a Prophy recall type. To change a patient to Perio, on the Recall window click Perio. See Recall.
Customize Web Sched Email Reminders
Web Sched sends reminders about recall appointments via email. Recall list defaults determine what message is sent and who receives a message. To set defaults, click Recall Setup under the Recall Types grid.

Customize Web Sched Messages: There are three Web Sched messages (one for each reminder). By default, the text is the same in each message.



To change a subject or message, double click on it. There are several variables that can be used:
NameF: Patient's first name.
DueDate: The date the patient is due for an appointment.
OfficePhone: Practice phone number.
URL: The unique link the patient will click to schedule their appointment.
Set the default for 'Use Email If': Web Sched will use the same logic the Recall List uses to determine who is sent a Web Sched email. The Use Email If setting affects a patient's default method.
Email: To set up email see Email Setup. To receive a Web Sched notification, patients must have an email address entered on the Patient Edit window. We recommend setting the Preferred Recall Method to Email as well.
For troubleshooting, see eServices FAQ or eServices Troubleshooting.
Enable Automated Web Sched Reminders
Enabling automated Web Sched reminders is optional. If turned on, patients will be automatically emailed Web Sched reminders when:
The patient is due for a recall (based on Recall List Defaults),
The eConnector is running, and
The current time is within the Run Time.
To enter automation settings:

In the Main Menu, click Setup, Appointments, Recall. Click Automation Settings.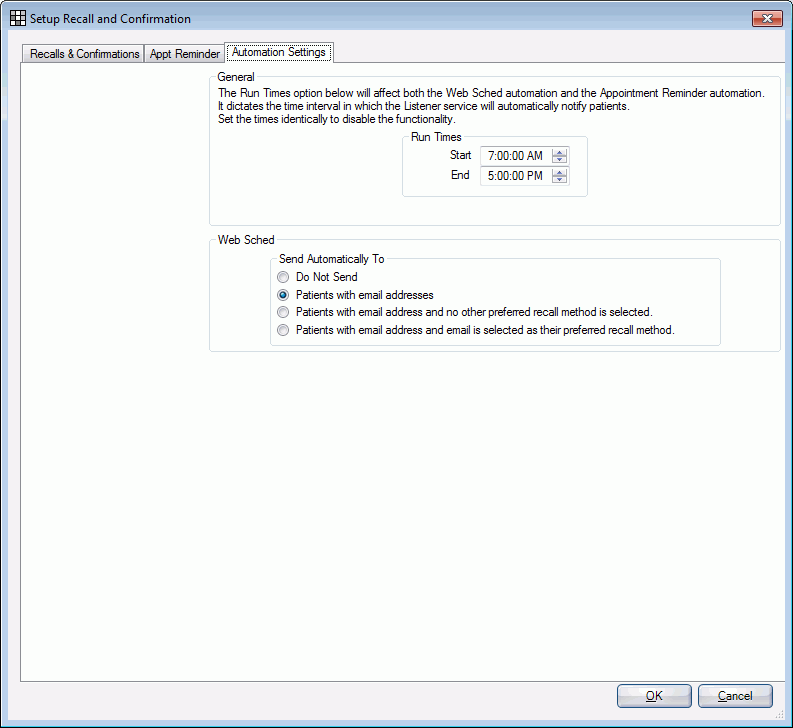 Enter a start and end run time. Reminders will only be sent during this time period. For example, the eConnector will check the Recall List and send all due reminders after the start time. Throughout the day, it will periodically check the Recall List for changes and send reminders accordingly. No reminders will be sent to patients before the start time or after the end time each day. To preview 24 hour run times, change your workstation clock settings to 24 HR.
Filter the patients who receive Web Sched automated recall reminders. Patients must have an e-mail address entered to receive reminders.

Do Not Send: No automated appointment reminders are sent to any patients regardless of recall preference. This is checked by default.
Patients with email addresses: Sends automated appointment reminders to any patient with an email address, regardless of recall preference.
Patients with email address and no other preferred recall method is selected: Sends appointment reminders to patients with email addresses only if no other recall preference is selected (e.g. text messaging).
Patients with email addresses and email is selected as their preferred recall method: Only sends appointment reminders to patients with an email address who have email as their preferred recall method.
To disable automatic recall reminders, click Do Not Send or set the run times identically (7:00:00 AM to 7:00:00 AM).
Also see Web Sched: What the Patient Sees.