X-Charge: Refund a Payment
When using X-Charge, a refund credits the amount of the transaction to the card.
In the patient's Account module, click Payment.
Enter the amount to return to the credit card (e.g. 34.00).
Click X-Charge.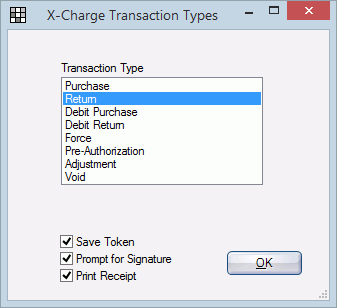 Select Return as the Transaction Type.
Verify other settings:
Save Token: Store the credit card number and expiration date as a token for future use. Set the default in Account Module Preferences.
Prompt for Signature: Prompt patients for a signature on the credit card terminal before completing transaction. Terminal must support electronic signature capabilities. Set the default in X-Charge Setup.
Print Receipt: Automatically print a receipt to the default receipt Printer when the transaction is completed. Set the default in X-Charge Setup.
Click OK.
If the credit card token is already stored, X-Charge will automatically start and apply the return to the card.
Otherwise fill out the credit card information, then click Process.
If the return was successful, click OK on the Payment window.
The return will be applied to the patient's account.