In the Main Menu, click Tools, Mass Emails.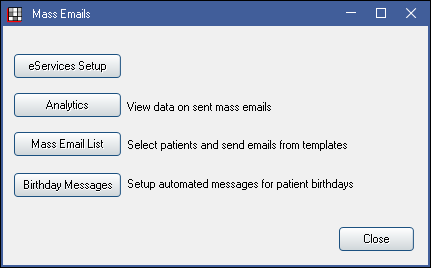 The Mass Email Setup window allows you to navigate the Mass Email features.
When Mass Email is not enabled, only the eServices Setup button will display.
eServices Setup: Opens the eServices Mass Email window. Choose whether to activate or deactivate Mass Emails.
Analytics: Opens Mass Email Analytics. Review the analytics of past mass emails sent.
Manual Mass Email: Opens the Send Mass Email window. Select a patient list, select a template, then send a mass email messsage.
Birthday Messages: Opens Mass Email Birthdays. Determine the rules and template for automated birthday messages.