In the Main Menu, click Setup, Security.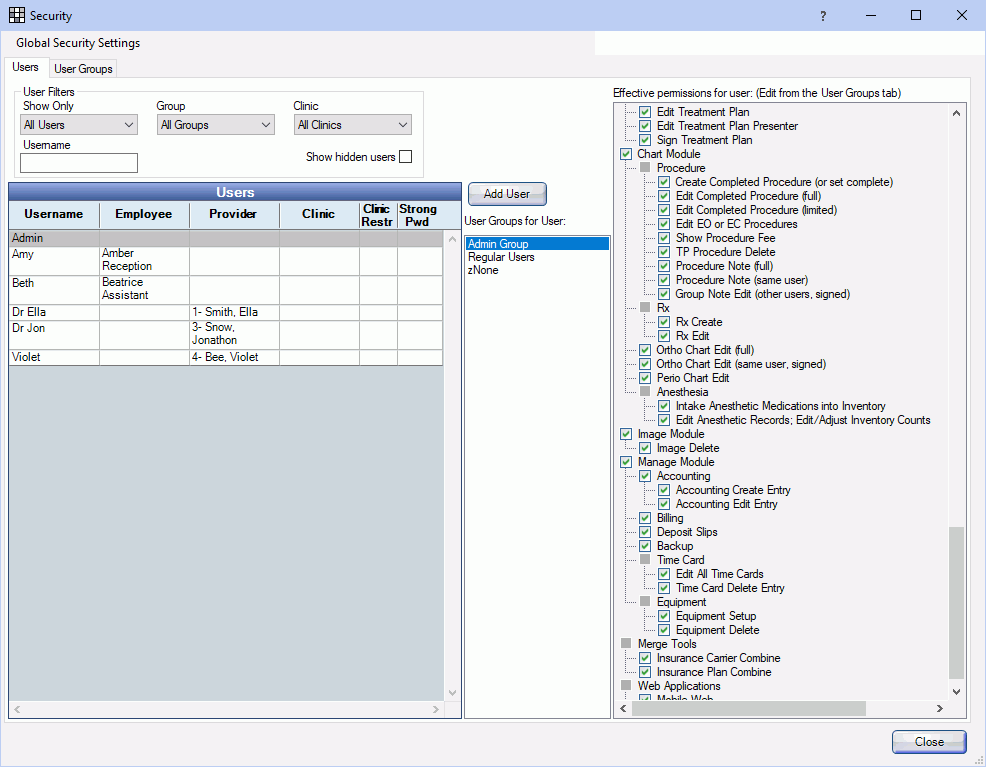 Settings: Access Global Security Settings.
Users tab: Create, edit, and view User Security.
User Filters: Filter options for the Users grid.

Show Only: Filter by the type of user (All users, provider, employee, other). This setting changes the label of the /Provider Name/Employee Name box.
Group: Filter by user group.
Username/Provider Name/Employee Name: Filter by user name/provider name, or employee name (based on Show Only setting).
Show hidden users: Include users who have been marked hidden.

Users: A list of all users that meet the User Filter criteria. To add a new user security profile, click + (top right of the Users heading).
User Groups for User: A list of aThe highlighted group(s) is the user group the user is associated with. Users can be associated to multiple groups.
Effective permissions for user: A read-only list of the user group's assigned permissions (Checked = allowed, Unchecked = not allowed). To change a user group's assigned permissions, click the User Groups tab.
User Groups tab: Create and rename user groups, assign security permissions to groups. Security User Group, Edit Group Permission.
User Group: A list of all current user groups.
Add Group: Add a new user group.
Edit Group: Edit the name of the selected user group.
Permissions for group: An overview of which permissions the user group has (Checked = allowed, Unchecked = not allowed).
Set All: Quickly assign all permissions (except the "Security Admin" Permission) to the selected user group.
Users currently associated: A list of all users currently assigned to the user group. Users can be assigned to multiple user groups.
Close: Close the window and save settings.
See also: Security.