Procedures that use scaling units can be entered and tracked using Time Units.
For Canada users, in the Treatment Plan Module, click Ins Rem.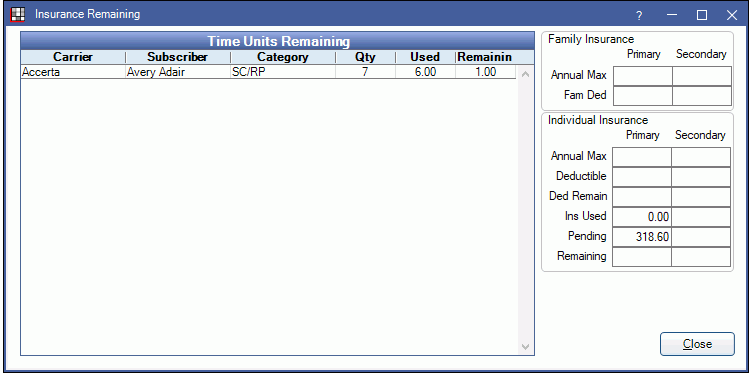 Alternatively, in the Account Module, click Ins Rem.

A new window will open showing the total, used, and remaining time units for each procedure code category that has a benefit.
To have time units calculate into Insurance Remaining, the following needs to occur:
The procedure has to have a time unit value (not 0).
The insurance plan has to have a benefit for the category that meets the following criteria (see Edit Benefits - Row View).

Category: Something other than none
Type: Limitations
TimePeriod: Calendar Year or Service Year
Quantity: Greater than 0 (this should match the time unit values covered by the plan)
Qualifier: Number of Services
Coverage Level: Individual or Family
Procedure Code Time Units
All procedure codes default to 1 time unit unless specified as different in their description, but you can also add or edit as needed. You can also view an insurance plan's total, used, and remaining time units by benefit category in the Treatment Plan Module or Account Module.
Enter time units for procedures by going to Lists, Procedure Codes. Then double-click a Procedure Code.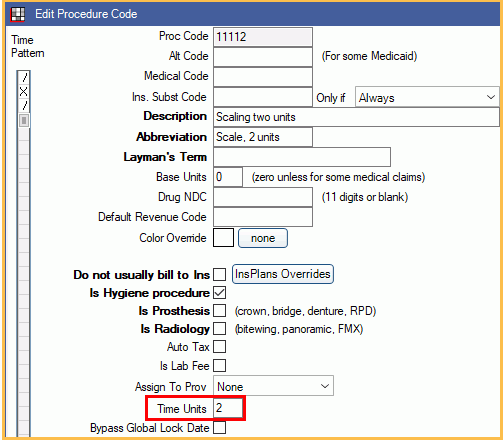 Example of a Time Unit Benefit
Below is an example of the how a benefit for time units might be set up.