Definitions allow you to customize colors, list options, categories, and some defaults available on various windows.
In the Main Menu, click Setup, Definitions.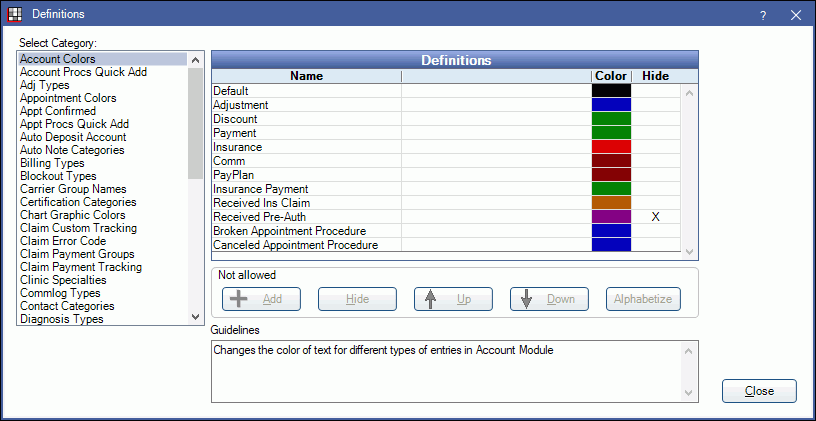 Definitions are grouped by category. Select a category to view its definitions and current settings. A short description of the category and what the definition controls show in the Guidelines section.
If a category controls list options, types, or categories, the Edit Items buttons are enabled.
Add: Add a new item to a category.
Hide: Hide an item. Select the item and click Hide. To unhide, double-click an item and uncheck Hidden in the Edit Definition window. Some items cannot be hidden or unhidden.
Up/Down: Move an item up or down in the list. Select an item and click Up or Down. This will also affect the sort order of the item in pick lists.
Alphabetize: Sorts the list alphabetically by definition name. Select a category and click Alphabetize. This will also affect the sort order of the item in pick lists.
Add or Edit a Definition
To add or edit a category's definition:
Click Add or double-click an existing definition. The Edit Definition window will open.


Enter or select definition information. Available definition options differ depending on the category.
If text can be edited, the text field will be white.
If color is an option, click the colored block to select a Color.
Click OK to save.