The Feature Request system is a unique tool that allows you to vote on features you want in Open Dental.
In the Main Menu, click Help, Request Features.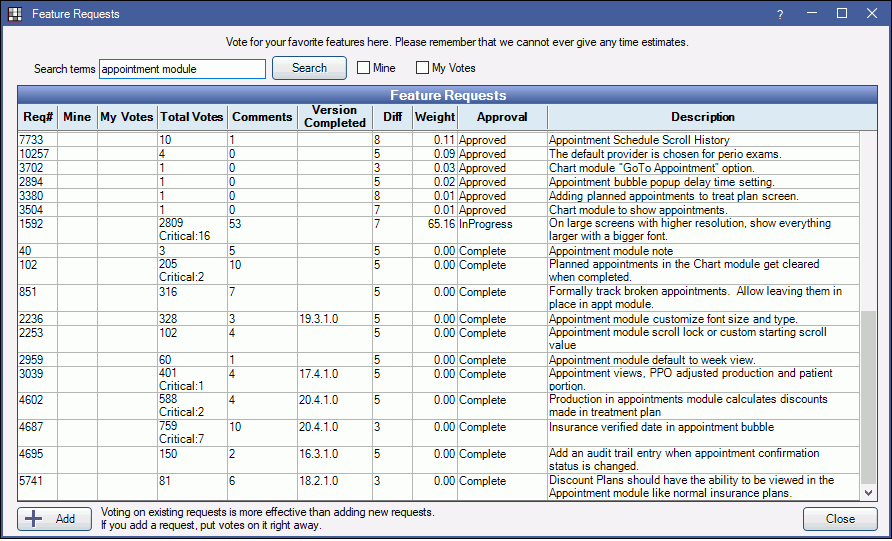 The form will be blank until a search term is entered. Click Search to populate all feature requests.
Every office can vote on requests and submit new requests. The voting process takes time but helps us prioritize requested features. We don't supply estimates on when a feature request might be implemented or guarantee that every request will become a feature.
Below are instructions for voting, submitting new requests, and hints for expediting requests.
How Feature Requests Work
Submitted feature requests start with an approval status of New and cannot be voted on yet. We will review it and change the status to Approved.
Voting Options: You have 100 points to spread among feature requests however you wish. You'll never lose your points, so allocate them liberally. Once a feature is complete, any votes you spent are available to reuse. You can also remove your votes from a request and allocate them elsewhere at any time.
Critical Status: You can mark up to two features Is Critical.
Pledges: Pledge money on requests that are extremely important to you. Pledges are not required for feature implementation. Pledges can be changed until we begin implementing that feature (status of InProgress).
Weight: An internal calculation used by Open Dental Headquarters to determine the value of a feature request.
You may see a denial status such as Redundant or NeedsClarification. If you see a denial status, delete your request or make changes to it and click Resubmit. This will set the status back to New, and we will review it again.
Vote on a Feature Request
Use the scroll bar to view the list of feature requests. Feature requests do not display in the order they will be implemented. Features you submitted (Mine), voted on (My Votes), or pledged towards will display at the top of the list. By default, features are then sorted by weight, then request number. You can also filter the columns.
Enter the request in Search terms by keyword.
Click Search to view existing related feature requests.
To limit the search to requests you created, check Mine. To only view requests you voted on, check My Votes.
(Optional) Click a column title to filter results. Up and down arrows show ascending or descending order. For example, click Total Votes to sort features by highest votes. Click Total Votes again to sort features by lowest votes.
Double-click a feature to view details.

To allot points, enter a number in Points. Optimally, pledge an amount or mark as critical.
Submit a New Feature Request
On the feature request window, confirm that a similar request doesn't already exist.
If your feature doesn't already exist, click Add.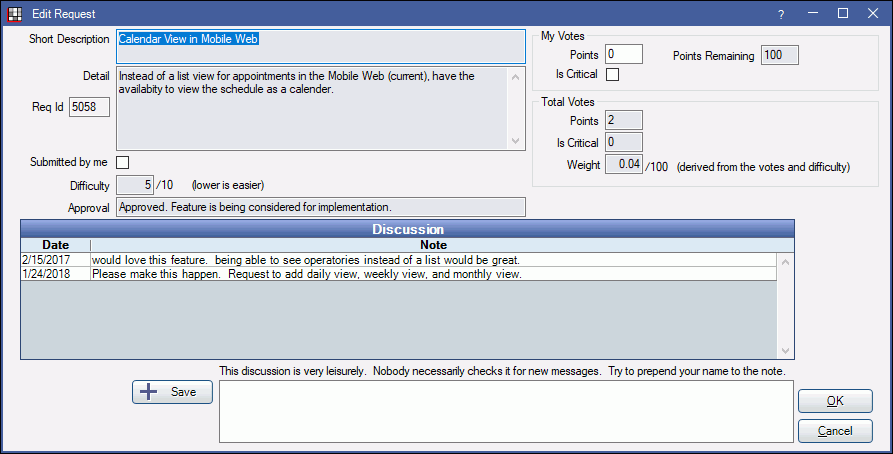 Enter a short description and details for the feature you want. The description and detail fields cannot be edited once the request has been submitted.
Wait for an approval status. When approved, we recommend voting for the feature, marking Is Critical, and pledging.
Click OK to save.
If you need to add further functionality to a feature you have already submitted, create a new feature request.
Improving Feature Request Visibility
To increase the chances of your feature request being implemented, use this system to your advantage:
Search for your request to determine if it already exists.
If not, create your feature request, and vote for it when approved.
Mark it critical.
Pledge money on the request.
Use the User Forum to promote your feature and get others interested in voting for it.
Expedite Your Feature Requests
Some larger offices or corporate clients may wish to pay us to add features they really wish to see implemented. Accepting a quote to expedite a feature will bypass the voting system.
Search for your request to determine if it already exists.
If not, create your feature request, and vote for it when approved.
Send an e-mail to customer.relations@opendental.com to request a quote for your feature. Include the Request ID number in your email.
You will be contacted by a member of Open Dental customer relations staff in regards to your request.