In the Main Menu, click Setup, Imaging, Devices.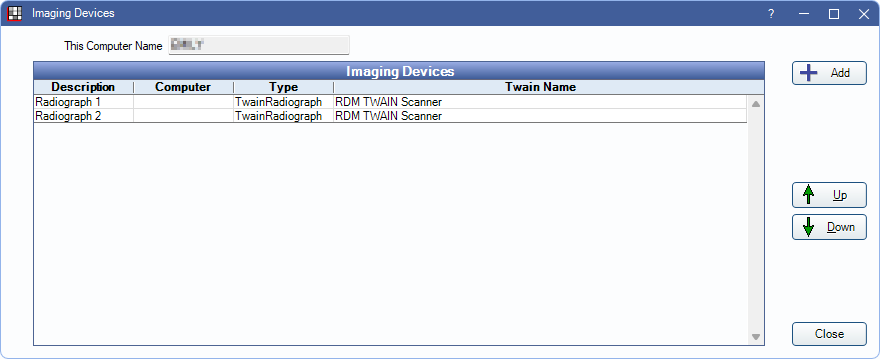 Add sensors to be used with the Capture button in the Imaging Module.
Add: Click to add a new device.
Up / Down: Highlight a device and click to move it up or down the list.
Click Add to add a new device, or double-click a device to edit.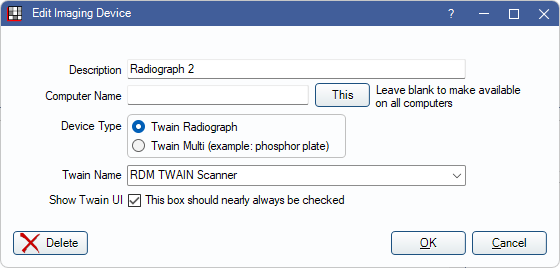 Description: Enter a description for the device. Displays in the Imaging Module.
Computer Name: Enter the computer name connected with this device. Leave blank to make available on all workstations.

This: Click to quickly enter the current computer for this device.

Device Type: Select a device type.

Twain Radiograph: Individual sensors. These sensors can still capture a series of images, but each image will be displayed before the next one is acquired.
Twain Multi: For use with sensors that cannot send individual images (e.g., phosphor plate systems, AT ScanX). Only groups of images are captured and displayed.

Twain Name: Select the TWAIN device from the dropdown menu.
Show Twain UI: Check to show the options window for the specified TWAIN driver.
Troubleshooting
If errors or issues occur with an imaging device, it is useful to narrow down where the issue is originating.
If issues occur, start by downloading the third-party application, Twacker. Twacker will allow users to test the TWAIN drivers on the workstation outside of Open Dental. If the same errors occur when utilizing the Twacker application, then the issue lies with the device or the device driver. When this happens, we recommend reinstalling the device driver. If the device driver is still problematic, reach out to an IT Professional or the device manufacturer to determine the cause.
If the issue does not occur within Twacker, but continues to occur in Open Dental, contact Open Dental Support for troubleshooting assistance.