In the User Edit Window, click Unlock Account.

After more than five consecutive failed attempts to Log On to Open Dental or the Mobile Web Feature, a user will be temporarily locked out for five minutes or until the account is manually unlocked.
Click OK. A confirmation will show.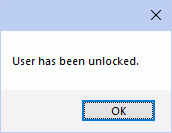 Click OK. The user can attempt to log on again.