DoseSpot eRx Feature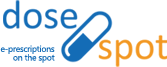 DoseSpot is a method of sending electronic prescriptions in Open Dental. It is an internet based, secure ePrescribing system. DoseSpot integrates with Open Dental using a program link and offers two-way medication syncing. DoseSpot also includes integration with Lexicomp Online for Dentistry.
Resources
What are the features?
Access to Lexicomp Online for Dentistry, a database of dental-specific drug information.
Two-way medication syncing.
Intuitive UI that is easy to use.
Notifications for pending prescriptions and refills for the logged-on provider.
Surescripts and Electronic Prescriptions for Controlled Substances (EPCS) certified.
The registration process can take up to two business days to complete. When DoseSpot is enabled, the eRx button in Open Dental shows notifications for needed actions by the prescriber.

Practices new to ePrescribing: Enable DoseSpot and begin sending ePrescriptions.
Practices already using eRx: Practices using eRx (called Legacy in 17.4 and greater) can choose to switch to DoseSpot (recommended) or continue using Legacy. Once DoseSpot is enabled, the eRx Legacy option will no longer be available.
When can I sign up?
DoseSpot integration is available in Version 17.4.12. See Sign up for DoseSpot.
What does it cost?
$54 a month per provider. This includes EPCS, Lexicomp Online for Dentistry, and Identity Proofing.
How to enable
See Setting up DoseSpot.
DoseSpot Setup has four main parts, each with multiple steps. You must call Open Dental support to activate the service.

Enable DoseSpot program link.
Sign up for DoseSpot.
Enable non-doctors.
Complete Identity Proofing.
EHR Incentive Program
DoseSpot has superior features to Legacy eRx, but ePrescribing with EHR Incentive Program is only possible with Legacy eRx - Comprehensive. See Electronic Rx.
Key terms:
Clinician: The provider at the practice/clinic who has been given access to DoseSpot by Open Dental. The clinician can send prescriptions using DoseSpot.
Non-doctor: An authorized staff member who is able to access DoseSpot to update patient records and add prescriptions that will be sent by the prescriber (the provider).
Practice Administrator: A staff member (typically an office manager) who will be the point of contact and own the DoseSpot sign up process for providers and non-doctors. This person will need admin permissions in Open Dental.
Self-reported Medications: A self-reported medication in DoseSpot is any medication that is added outside of DoseSpot. Medications added from Open Dental always show as self-reported.
Two-way medication syncing: Medications added to DoseSpot automatically list in Open Dental, and medications added in Open Dental automatically list in DoseSpot. Self-reported medications can be edited from both Open Dental and DoseSpot.