Allocate Unearned Income to Completed Procedures
Unallocated Income, such as prepayments, can be quickly allocated to completed procedures. This method is useful when you only have one unearned type. If you use more than one unearned type, see Income Transfers.
In the Account module:

Select the procedure(s) to allocate unearned income to, then click the Payment dropdown, Allocate Unearned.
Or, do not select procedures and click the Payment dropdown, Allocate Unearned. All completed procedures that are not yet paid off will list.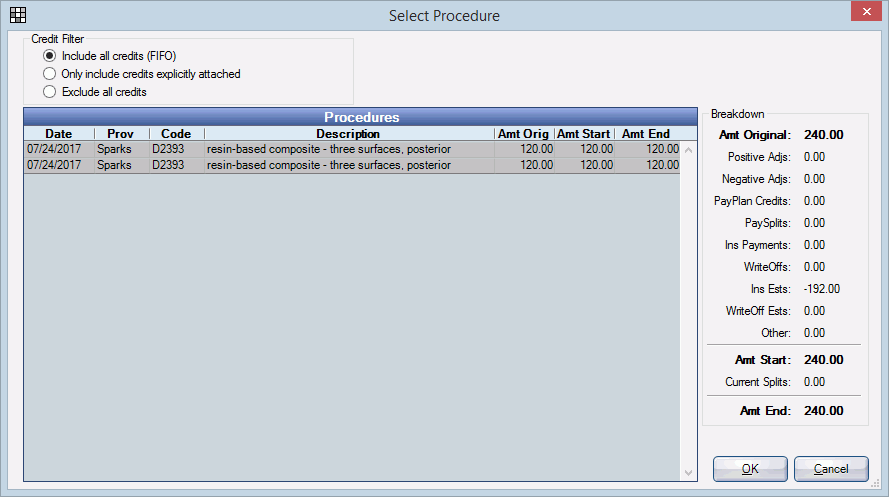 There are three credit filter options:

Include all credits (FIFO): Show all procedures that are not 'paid off' using first in/first out logic. This logic applies when credits in a payment are not explicitly attached/allocated to procedures.
Only include credits explicitly attached: Show all procedures that do not have enough attached credits (e.g. pay splits, adjustments) to cover the full cost of the procedure (e.g. procedures that have attached pay splits that only cover part of the cost)
Exclude all credits: Show all procedures on this patient's account.

Highlight the procedure(s) to attach to the payment, then click OK.
The Payment window will open.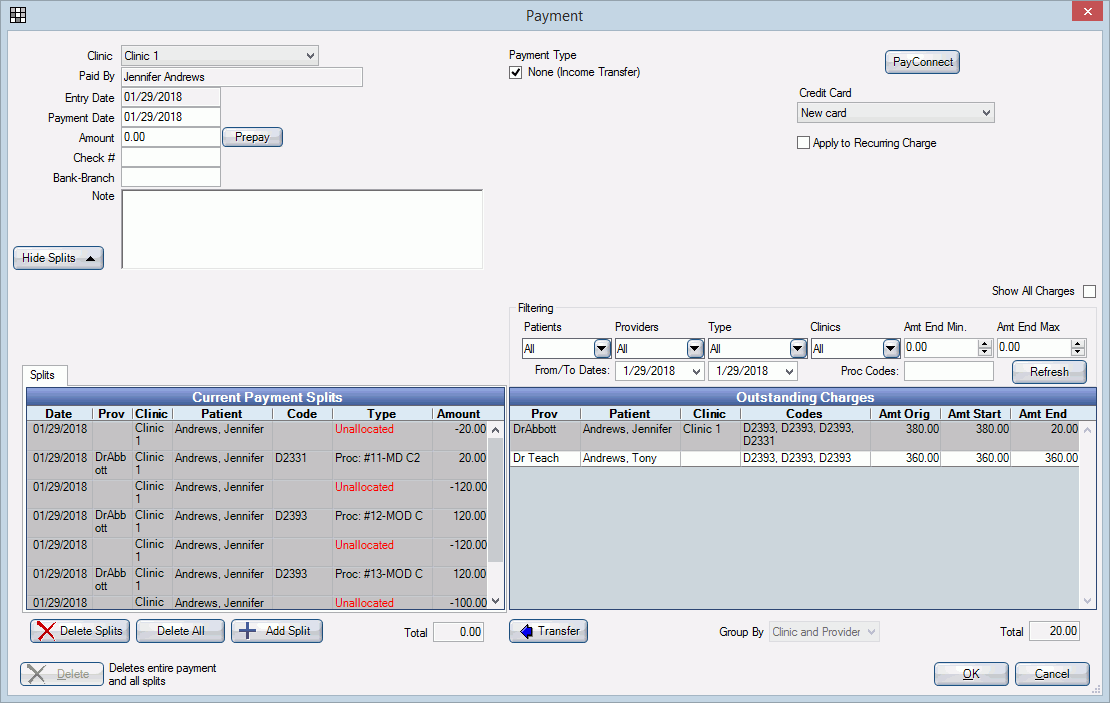 Pay splits for the selected procedures and unallocated amount will be auto-created, offsetting each other to equal 0. Verify that pay splits are accurate.
The payment type will equal 'None' (indicating this is a transfer of income only).


Click OK to save and close.
View Allocations
Once a unearned income has been allocated, you can quickly view the allocations via the original prepayment.
Double click the original prepayment.
On the Payment window, click the Allocated tab in the Current Payment Splits grid.
For each allocation, the date, amount and patient list.