For Canada users, in the Manage Module, click Send Claims.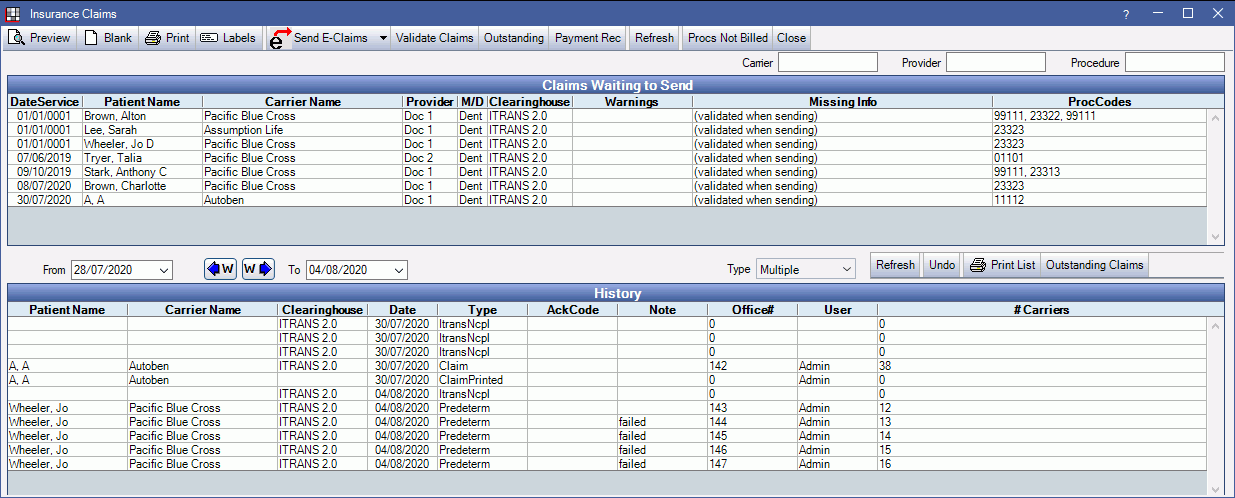 Canadian insurance claims can be managed on the Insurance Claims window.
Claims with a Waiting to Send status can be sent or printed here as part of a batch. However, batch claim sending in Canada is not recommended. The program will still send the claims one by one in real time, thus the sending process could take a while. It is better to send the claims individually, as they are created on the Edit Claim window. See Canada Claims.
Claims Waiting to Send
The top half of the window lists claims that have a status of Waiting to Send.
Clearinghouse is determined by the insurance plan's setting for Don't usually send electronically on the Insurance Plan. If checked, paper will list. If unchecked, the default clearinghouse will list.
Warnings: Indicates when a user attempts to send a deleted or already sent claim.
Missing Info: Indicates the claim validation status. If validated when sending, the claim hasn't been validated for missing information yet. If missing information is listed, it must be completed before resending. Right click on the claim to Go To Account. If the column is blank, the claim has been successfully validated with no missing information found.
Filter options:
Clinic Filter: List claims by Clinics to more easily send each clinic's claims to a specific clearinghouse. The logged on user must have access to a clinic to view or send claims for that clinic. Click Next Unsent to jump to the next clinic with unsent claims.
Custom Tracking Filter: List claims by recorded claim tracking status. Custom tracking data is entered on the Edit Claim - Status History Tab.
Toolbar options:
Preview: View a claim before sending or printing.
Blank: Print a blank version of the default claim form. See Claim Forms.
Print: Print selected claims or, if no claims are selected, all paper claims.
Labels: Print individual labels for selected insurance carriers.
Send E-Claims: Validate and send all e-claims to the clearinghouse listed in the Clearinghouse column, or click the dropdown to validate and send to a specific clearinghouse. See Send Claims.
Validate Claims: Validate selected e-claim(s) for missing information prior to sending.
Outstanding: Request outstanding transactions (ROT) from the default clearinghouse. See Retrieve Reports below.
Payment Rec: Get payment reconciliation transactions for a specific carrier, billing and treating provider. This report is not used often.
Refresh: Update the Claims Waiting to Send grid.
Procs Not Billed: Open the Procedures Not Billed to Insurance Report and optionally create batch claims for unbilled procedures.
Close: Close the window.
Claim History
The lower History grid lists all claims sent or printed from this window and received reports (e.g. ERAs, acknowledgment reports). Double click an item to view more information.
The list of claims and reports can be filtered by date or type. Click Refresh to update the grid with filter criteria.
Date From / To: Only show claims in a date range.
Manually enter the dates.
Click the down arrow to select dates from a calendar.
Click the W buttons to jump back or forward one week.
Type: Only show certain types of claims or reports. Single click an option, or to select multiple types, press Ctrl while clicking or Shift while clicking. If no options are selected, then all types will show. Valid Canadian formats which may display are:
Claim_CA: Primary e-claim.
ClaimCOB_CA: Secondary e-claim.
ClaimPrinted: Printed claim.
ClaimReversal: _CA Reversed e-claim.
Eligibility_CA: Eligibility request.
Predeterm_CA: Predetermination.
RequestOutstand_CA: Request for Outstanding transactions.
Undo: If there was a problem with sending, highlight the claims and click Undo. The claims will move back to the Claims Waiting to Send grid. It will not reverse the claim. A claim can only be reversed from the Edit Claim window.
Print List: Print the current contents of the History grid.
Outstanding Claims: Open the Outstanding Insurance Claims Report.
Retrieve Reports (ROT - Outstanding Transaction Requests)
Click Outstanding to retrieve reports from the default Clearinghouses. Your default clearinghouse must be set up first.
To retrieve reports from Alberta Blue Cross, set Claimstream as your default clearinghouse before opening the Outstanding window, then use the Version 4 To Specific Carrier option and pick Alberta Blue Cross from the list. Select the office number and click OK.
For all other carriers, set ITRANS as the default clearinghouse and get the reports twice: once selecting the Version 2 option, and once selecting the Version 4 To ITRANS Network option.