Attachments can be sent electronically through the DentalXChange (ClaimConnect) clearinghouse.
In the Edit Claim - Attachments Tab, click the DXC tab.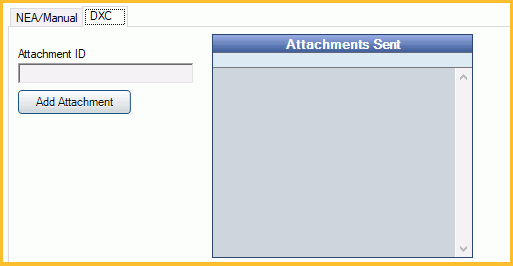 Enable the DentalXChange Attachment service in ClaimConnect E-Claims prior to sending attachments.
Attachment ID: An attachment ID will automatically populate when attachments are sent. DentalXChange will use the attachment ID to associate attachments to the claim.
Click Add Attachment to open the Claim Attachments window. A warning will pop up to ensure all changes to the claim have been saved first.
Note:
For a new Claim, clicking Send or OK in the Edit Claim window will validate the claim. If an attachment is needed, you will receive a popup asking to add the attachment.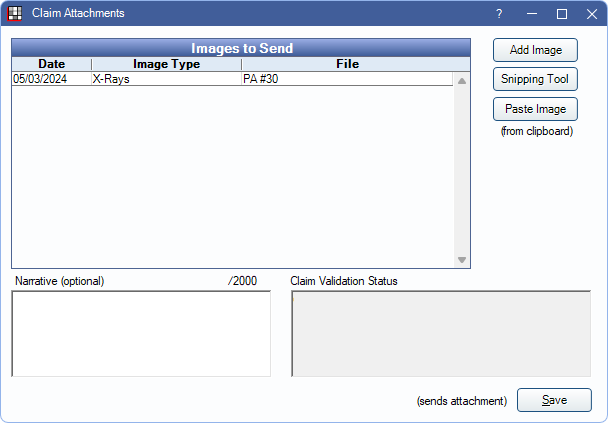 Click Add Image to attach an existing image from your File Explorer, or click Snipping Tool to create a screenshot of an image (see below). Click Paste Image if you are copying an image from the windows clipboard.

Note:
PDF files are not supported by the DentalXChange Attachment Service.
If no Image Category is selected for Attachments, a warning will appear stating the first image category listed will be used.
You can add as many attachments as needed. If the service times out, attachments will be sent one at a time until all have been sent.
Narrative: Enter a narrative (optional). Allows up to 2,000 characters.
Claim Validation Status: Will list any errors or validation notes for the attachments.
As each image is added, the following window will appear: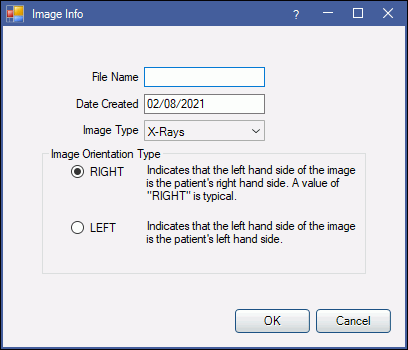 File Name: Give the image a file name.
Date Created: This field will auto-populate with today's date. Change the date if needed.
Image Type: Select from:
Referral Form
Diagnostic Report
Explanation of Benefits
Other Attachments
Periodontal Chart
X-Rays
Dental Models
Radiology Reports
Intra-Oral Photographs
Narrative
Image Orientation Type: Only shows when X-Rays is selected. Select RIGHT or LEFT.
Click
OK
to save image information.
Once attachments have been sent, return to the Edit Claim window and send the claim. Attachments will automatically save in the patient's Image Module.
Snipping Tool
Use the snipping tool to grab a screenshot of an image if one does not already exist. This is useful to quickly grab an image without exporting and saving it first.

Click New to create a new image.
Click and drag the red box over the selected area.
Click OK to save the image, or click Cancel to try again.
Note: If you have Windows Scaling turned on, or you are using a remote application, the Snipping Tool will not work. Instead, use the Windows Snipping Tool and save the file outside of Open Dental. Once saved, add the attachment manually.