In Fee Schedules, at the bottom, click Go.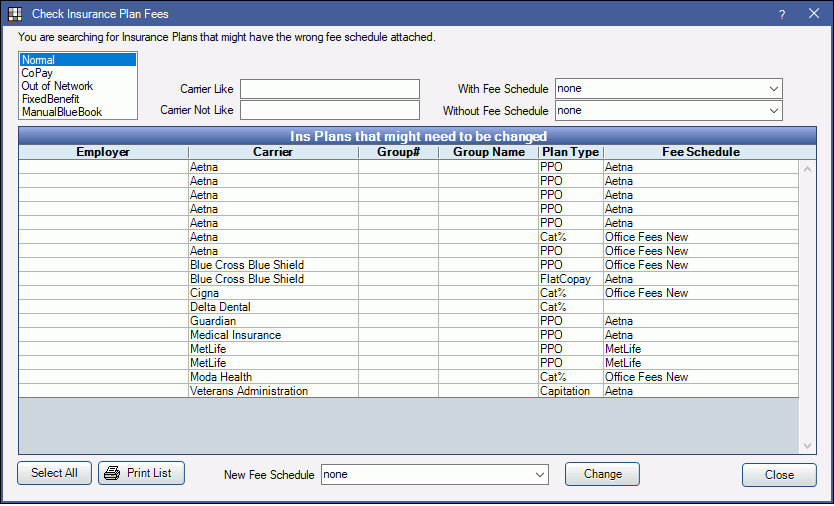 The Check Ins Plan Fees tool allows you to check that insurance plans have the correct fee schedules or reassign fee schedules for multiple insurance plans at once.
Enter filter criteria at the top to filter the list of insurance plans.
Fee schedule type (Normal, CoPay, Out of Network, FixedBenefit, ManualBlueBook)
Carrier Like: Enter carriers to include.
Carrier Not Like: Enter carriers to exclude.
With Fee Schedule: Select fee schedules to include.
Without Fee Schedule: Select fee schedules to exclude.
Checking plans for the correct fee schedule:
Example: If you have a special fee schedule that all Aetna plans should be on, type Aetna in the Carrier Like box. If the results include Aetna plans that do not have the Aetna fee schedule, there may be incorrect fee schedule assignments.
To also make sure no other plan was accidentally assigned an Aetna fee schedule, type Aetna in the Carrier Not Like box and select Aetna for With Fee Schedule. The list should be empty. If there is a result, a fee schedule was assigned incorrectly.
Change fee schedules for multiple plans at once:
Highlight the insurance plans to change fee schedules for. Optionally, use the Select All button to select all displayed.
Next to New Fee Schedule, select the new fee schedule to assign to the selected plans. Only the same fee schedule types will display in the drop down (i.e. ManualBlueBook).
Click Change to apply the new fee schedule to all selected plans. A confirmation message will show. Click Yes.
To prevent accidental changes, you will be prompted for a password. It is fee. Click OK.
A message box will indicate how many plans were changed.
Print List
: Print currently displayed list of Insurance Plans to follow up on later.