This sets up a list of hardware for users to pick from later.
In Ortho Setup, next to Ortho Hardware Specs, click Setup.

Type: Filters the list of hardware shown. When adding new hardware, the selected type will be assigned to new hardware.
Add: Select a type and click to add new hardware. The Edit Ortho Hardware Spec window pop up (see below).
Up/Down: Select an item and click to move up or down in the list.
Double-click an existing hardware entry to open the Edit Ortho Hardware Spec window (see below).
Edit Ortho Hardware Spec
When adding or editing an Ortho Hardware Spec, the Edit Ortho Hardware Spec window will open.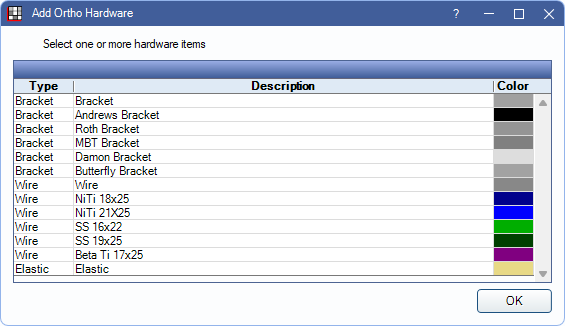 Type: This field is read-only. Indicates the kind of ortho hardware. If this is a new ortho hardware and the incorrect type was chosen, click Cancel and choose the correct Type from the Setup window before clicking Add.
Description: Name or description of the hardware spec.
Color: Click the box to change the color. This is the color that will appear on the odontogram.
Hidden: Check to hide hardware from the Add Ortho Hardware list.
Delete: Delete hardware. Only hardware that has never been used for patients can be deleted (e.g., hardware created by mistake).
OK: Close window and save changes.
Cancel: Close window without saving changes.