In the Main Menu, click Setup, Family/Insurance, Payer IDs.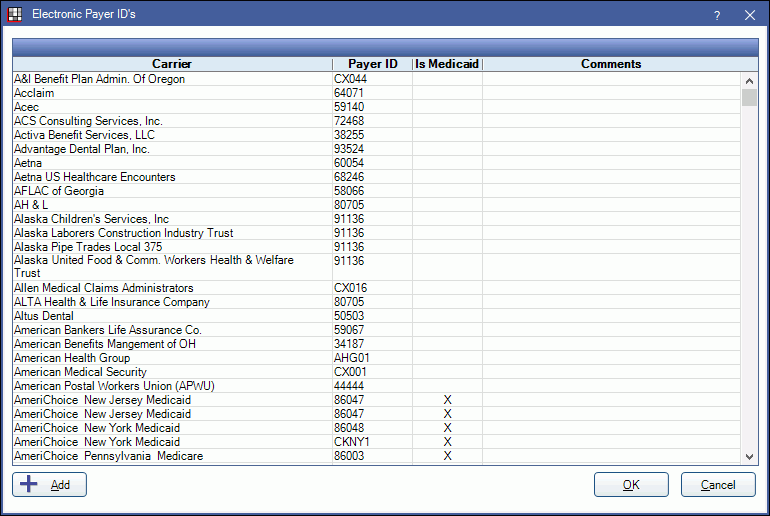 Electronic Payer IDs are sometimes used when submitting E-Claims.
Make sure to always verify that the electronic payer ID for a carrier is correct. If you use the wrong ID you may have to resubmit claims at your own expense. Some payers may have commercial and government payer IDs, and we may not list both. If in doubt and sending a large number of claims to a payer you have not previously sent to using Open Dental, you should verify the ID with the carrier.
This list can be used as a reference when you need to find an electronic payer ID. This list also appears when you click Search IDs on the Insurance Plan Edit Window. Another place to enter the ID is in Carriers. However, electronic IDs attached to a carrier do not automatically appear in this list.
A list of known electronic payer IDs are already setup in Open Dental.
To add a new electronic payer ID, click Add.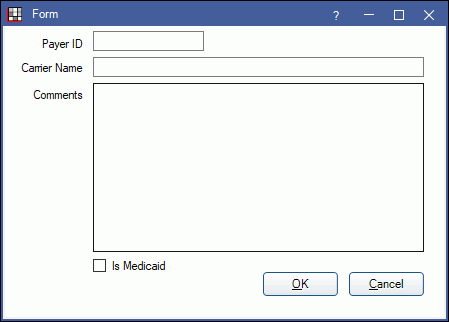 Enter the payer ID, carrier name, and any comments. If this is Medicaid, check the Is Medicaid box.
Click OK to save.