In the Windows Control Panel, click Region and Language.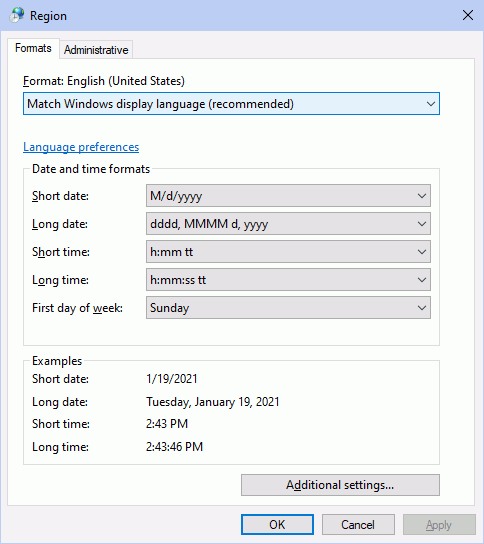 For the most part, Open Dental will look and behave similarly for everyone. However, there are specific parts of Open Dental where the appearance and behavior change based upon region and language settings (e.g. Language Translations and for Canada). Region and language settings will also affect currency symbols and date format. All computers in your network should be set to the appropriate region and language.
Choose your language and region from the Format dropdown.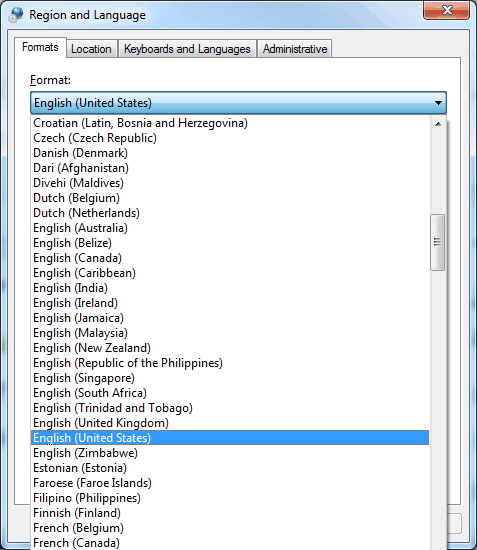 Restart Open Dental. You may need to restart twice if it doesn't take effect the first time.
Troubleshooting
Problem: (Canada only) When I try to send claims, I get the error Cannot send claim until missing data is fixed: Max prosth, Mand prosth.
Solution: Make sure your Region is set to English (Canada).
Problem: I type in a language that combines characters (e.g. Arabic, Korean) and I use IME keyboard. How do I allow composition typing in Open Dental?
Solution: Turn on composition typing in Miscellaneous Setup.
Problem: I receive this message when I start Open Dental.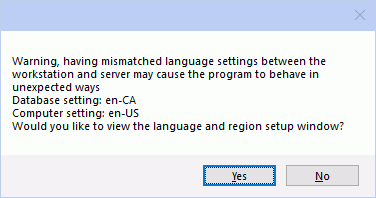 Solution: This warning means the database setting for language and region is different than the computer's setting. You can change the computer setting to match the database setting, change the database setting to match the computer setting, or leave settings as is. You can also stop this warning from showing on this computer. In Miscellaneous Setup, click [...] next to Language and region used by program, then check the Do not show this window on startup box.