Right-click in certain text boxes throughout Open Dental to spell check, insert Quick Paste and Auto Notes, and more.
In Procedure Notes, right-click.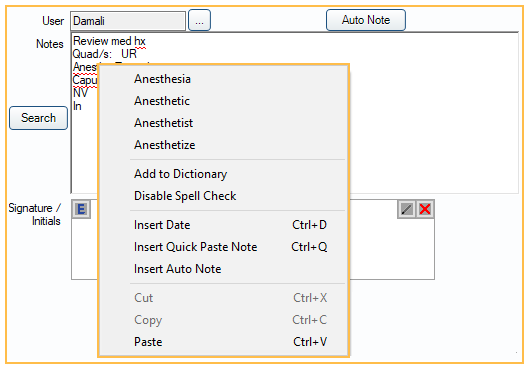 Additionally, right-click is supported for Quick Paste Notes and Spell Check in the text boxes listed in the table below.
Type
Window Name: Text Box Name
None
Account Module: Fam Urgent Fin Note
Procedure

Procedure Code: Default Notes Edit

Procedure Code Note: Note

Procedure: Notes, E-claim Note

Procedure Group Note: Notes

Procedure Note Append: Original Note, Appended Note

Appointment
Edit Appointment: Appointment Notes
CommLog
Commlog: Note
Adjustment
Adjustment: Note
Claim
Claim: Claim Notes
Email

Edit Email Message- body of message

Edit Email Template - body of message

InsPlan

Insurance Plan: Plan Note, Subscriber Note

Benefits: Notes

Letter
Edit Letter: accessed via Main Menu, Setup, Letters
MedicalSummary
Medical: Medical Summary
ServiceNotes
Chart Medical Area: Service Notes
MedicalHistory
Chart Medical Area: Medical History
MedicationEdit
Medications List: Notes
MedicationPat
Medications: Count, Instructions, Refills
PatAddressNote

Edit Patient Information: Address and Phone

Notes

Add Family: Address and Phone Notes

Payment
Payment: Note
PayPlan

Payment Plan: Note

Edit Payment Plan Charge: Note

Query
User Query
Referral
Referral List: Notes
Rx
Rx / Prescription: Notes
FinancialNotes

Account module: Family Financial

Billing: General Message

MedicalUrgent
Chart Medical Area: Med Urgent
ChartTreatment
Chart Module: text box under graphical chart
Statement

Statement Window: Note, Bold Note

Billing Defaults: General Message

Billing Options: General Message, Body

Recall
Edit Recall: Administrative Note
Popup
Popups: Popup Message
Task
Task Window: Description, Note. The quick paste note must have a Task type of the ? shortcut will not work.
TxtMsg
Text Message: Text Message
Schedule

Schedule Edit: Note

Blockouts: Note

TreatPlan

Treatment Plan Module: Treatment Plan Note

Edit Treatment Plan: Treatment Plan Note

ClaimCustomTrack
Edit Claim - Status History Tab
CreditCardEdit
Credit Card Edit window. See Authorize Recurring Charges
Right-click options may be available for other areas of Open Dental with additional options. See the corresponding manual page for that area for additional information and right-click options.
Inserting Dates
There are several ways to quickly insert today's date in a right click text box.
In the text box, press CTRL + D.
Right click in the text box, then click Insert Date.
Click Date at the bottom of the quick paste notes window.