eRx Companies
Electronic Rx (eRx) is an internet-based, secure method of sending electronic prescriptions in Open Dental accessed from the Chart Module.
There are two options for sending electronic prescriptions.
DoseSpot eRx (recommended): eRx, EPCS, two-way synching, insurance coverage import, drug-drug and drug-allergy interaction checks, mobile web accessible, alerts for pending prescriptions, and access to lexicomp.
Legacy eRx (NewCrop eRX): eRx, EPCS, controlled compound drugs.
See Fees for Support and Services for pricing.
eRx only works in the United States and its territories.
Comparing eRx Options
Use the chart below to help determine which eRx Solution is best for your practice.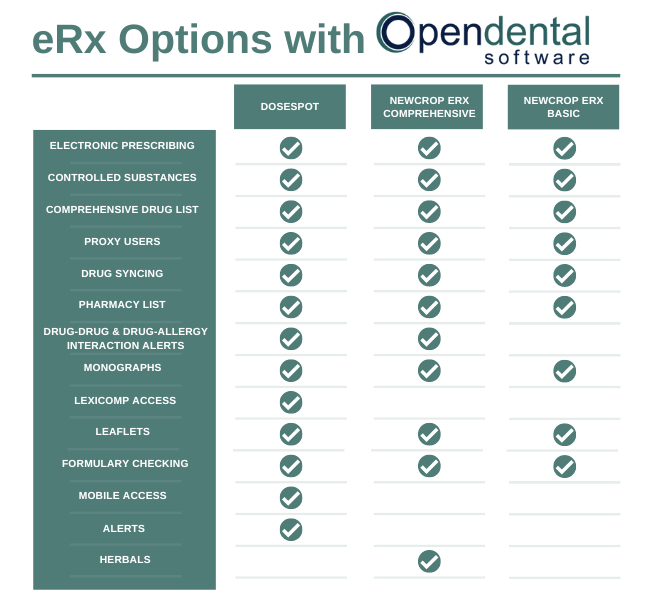 Electronic Prescribing: Create and send prescriptions electronically.
Controlled Substances: Create and send prescriptions that are regulated under federal law. This is also known as Electronic Prescribing of Controlled Substances (EPCS).
Comprehensive Drug List: Access to a comprehensive list of drugs to select from.
Proxy Users:

DoseSpot: Non-Provider users can create prescriptions but do not have the ability to send prescriptions.
NewCrop eRX: Non-Provider users can create any prescription and have the ability to send non-controlled prescriptions.

Drug Syncing: Prescriptions sent in the eRx Solution sync to the Open Dental Chart Module. For DoseSpot, medications and prescriptions in Open Dental also synch back to DoseSpot.
Pharmacy List: An indexed list of pharmacies.
Drug-Drug & Drug-Allergy Interaction Checks: For Drug-Drug Interactions, a popup displays if the drug being prescribed interacts negatively with another drug the patient is already taking. For Drug-Allergy Interactions, a popup displays if the patient is allergic to the drug being prescribed.
Monographs: Drug monographs. For DoseSpot users, this is included with Lexicomp access.
Lexicomp Access: Access to an integrated version of the Lexicomp Database.
Leaflets: Educational materials that can be printed.
Formulary Checking: Indicates if a drug is covered by the patient's insurance.
Mobile Access: Access to electronic prescribing from a mobile device. Requires Open Dental Mobile.
Alerts: Receive alerts in the Chart Module if a prescription is pending.
Herbals: Herbals can be prescribed in NewCrop eRX Comprehensive. Interactions will not be characterized as to severity due to lack of standardized content and dosage.
EMR / EPCS Implementation
Some states, such as Indiana, offer programs to reimburse users for EMR / EPCS Implementations. This does not apply to Open Dental as we have already gone through certification and implementation with our eRx providers. There is no implementation cost for eRx with Open Dental so there is nothing to reimburse.