eServices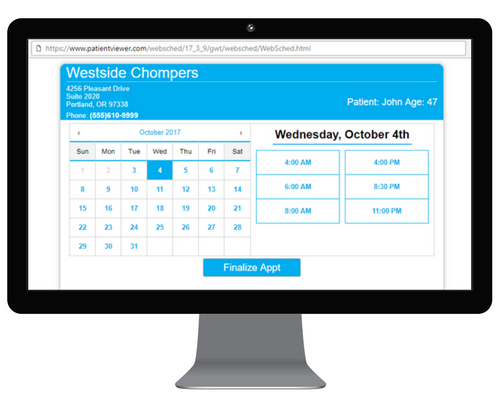 eServices are internet-based features available through Open Dental that can provide enhanced access for patients and providers, and automate many tasks. The result is increased productivity and efficiency and a better patient experience, which translates into improved patient retention and practice growth.
eService Fees: See Fees for Software, Support, and Services.
Each location must be on support and have a unique registration key.
Other Details:
eServices require installation of the eConnector, the gateway of communication between your computer and our secure servers. To quickly install the eConnector, see eConnector Installation.
For a list of supported browsers, see Computer Requirements.
Distributors who would like to resell Open Dental eServices: See Distributors.


Bundle eServices and get all eServices for one low, discounted monthly fee per location!
| | | |
| --- | --- | --- |
| Service | Description | Learn More |
| eServices Bundle | Includes all of the eServices listed below at a discounted price. | eServices Bundle |
| eReminders | Send automated text message and/or email reminders about upcoming appointments. | |
| eConfirmations | Send automated text message and/or email confirmations to remind patients about an upcoming appointment AND allow the patient to e-confirm. | eConfirmations |
| Integrated Texting | Send SMS text messages directly to patient's mobile devices and receive unlimited inbound text messages from patients. Works with eReminders, eConfirmations, and Web Sched. | Integrated Texting |
| Mobile Web | Connect to the Open Dental any time, anywhere using a supported internet browser and your mobile device. | Mobile Web |
| Patient Portal | Give patients instant access to their health information. Use secure WebMail to exchange private messages with patients. Also allow online patient payments using X-Charge. | Patient Portal |
| Web Forms | Allow patients to complete forms online using any browser. | Web Forms |
| Web Sched Recall | Allow current patients to schedule their recall appointment online. | Web Sched Recall |
| Web Sched New Patient | Allow new patients to schedule their first appointment online. | Web Sched New Pat |
| Web Sched ASAP | Allow current patients to schedule ASAP appointments online. | Web Sched ASAP |