Patient Pictures
Patient pictures are images that can be associated to a patient. They can be viewed by hovering over a patient's appointment in the Appointment Module, or the patient's chart in the Family Module.
Add a patient picture
Take a patient picture
Update a patient's picture
Remove a patient picture
Web Cams
Add a Patient Picture
Patient pictures can be added in the Images Module.
</p>
The default location for adding a new patient photo is the 'Patient Pictures' folder. If you would like to change the folder associated with patient pictures go to Setup, Definitions, Image Categories. Add or select a category and check the box for 'Patient Pictures'.
Taking a Patient Picture
To take the patient's picture, use a webcam or digital camera, then save the image in an appropriate file format (.jpg, .gif, .png) You can import the image using the 'import' button, or drag and drop the image into the images module.
Update a Patient's Picture
To update a patient's picture, add a new image to the Patient Picture folder. The most recent image in the folder will be used in the Appointments and Family Modules. You can change the date on an image by right clicking the image, selecting 'info', and editing the date.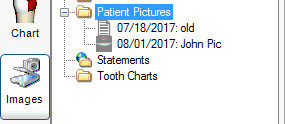 Remove a Patient Picture
To delete an image, right click the image and select 'delete'.

To add or remove the patient picture from the appointment bubble, go to Setup, Display Fields and double click on Appointment Bubble. Move 'Patient Picture' to or from the 'Fields Showing' list.

Web Cams
Web cams can be used in Open Dental if the proper TWAIN driver is installed. If a TWAIN driver is installed, you can take a patient picture using the scan button. Open Dental does not support a live feed so you will not be able to view the image before it's taken.