Family Module
The Family Module is where the basic patient and insurance information is entered and organized. You can see all the useful information including percentages on one screen.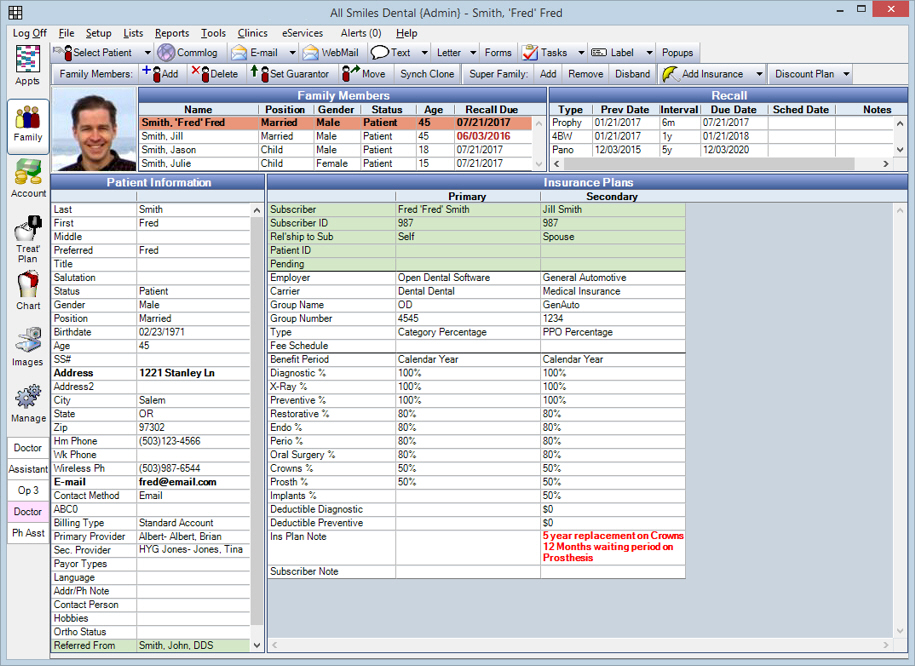 At the top is the patient picture. The picture that will be shown will be the most recent picture in the category of the Images module that is marked as a patient picture. To edit the Image categories, go to the Main Menu and select Setup | Definitions. Go to the Image Categories at the left. One of your categories should be marked with a P. When you add images to that category in the Images module, then they will show as the patient picture.
In the toolbar at the top, you can Select a Patient, make changes to the Family Members List, or add an Insurance Plan.
The patient information section is located to the left. To edit the Patient Information, double click on that area.
The Recall information is located at the upper right. Double click to edit.
The Insurance Plans table displays all insurance currently attached to the patient as active coverage. You can have unlimited plans attached. For instance, you could have primary, secondary, tertiary, primary medical, secondary medical, etc. To add an Insurance Plan, click on the Add Insurance button in the main toolbar. To edit an existing plan double click on the column representing that plan. There is a dropdown arrow on the right of the Add Insurance button which lets you view Plans for Family.
This list is especially useful for insurance plans that are no longer current. Old insurance plans never get deleted and are always available here for reference.