Use the attachments tab to document which attachments will be sent with the claim and how they will be sent.
In the Claim Edit window, click the Attachments tab.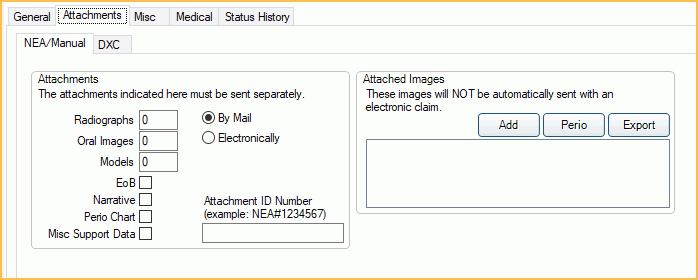 NEA/Manual Tab
The NEA/Manual Tab is used to document attachments sent to NEA FastAttach or other third party services. Data entered here is informational only.
Note: NEA
Fast
Attach was acquired by Vyne Dental and is an option for electronic attachments. For
Fast
Attach registration and download see:
https://vynedental.com/fastattach/
.
This box will be grayed out if Allow Attachments is selected in your clearinghouse setup.
Radiographs, Oral Images and Models: Enter how many pages will be sent for each. This information shows on paper claims and e-claims.
EOB, Narrative, Perio chart, Misc Support Data: Check the items that will be sent with the claim. This information shows on e-claims.
By Mail/Electronically: Select how the attachments will be sent.
Attachment ID Number: If you have an attachment ID that must be included before sending the claim, copy it, then paste it here. The ID will be prepended to the notes field and will also go out on the e-claim in a special field for attachments. If using NEA FastAttach with ClaimConnect, the NEA# will be inserted into the claim after the claim has been sent.
Attached Images: Select the images that will be sent as attachments, then export them to a temporary folder. These attachments are not sent by Open Dental. You must send them separately using a third party service.
Click Add to select an image from the Images Module.
Click Perio to attach the current perio chart including up to 5 historical measurements. See Perio Chart.
As you add images, they will list in the box.
Double-click on any attachment to view the image.
Right-click to open, rename, or remove.
Click Export to send all listed attachments to the folder defined in the preference, Claim Attachment Export Path.
Import the images from the temporary folder to the attachment service (e.g. to NEA Fast Attach).
DXC Tab
DentalXChange (ClaimConnect) has their own attachment service directly integrated into Open Dental. See DentalXChange Attachment.
Canadian Tab
Only displays for Canadian Users. See Canada Attachments for details.