Webinar: Income Transfers
After a final data Conversion you may have guarantors with large negative balances, but associated family members may have positive balances. Open Dental associates payments with the individuals who had the work done. Other software, however, may have associated payments with guarantors only. Thus, when a family balance is not 0, the conversion process is unable to determine where to apply balance amounts.
If, at the time of conversion, a family balance is 0, we automatically reallocate amounts by performing an income transfer. For these accounts (families that had a 0 balance at time of conversion), there are no further steps you need to take.
If, at the time of conversion, a family balance is not 0, we are unable to automatically reallocate the payments between family members. You will need to manually transfer income for certain families following the steps below.
Anyone on your Aging of Accounts Receivable (A/R) Report that you ran immediately after your final conversion could be in need of an income transfer. Income transfers can be performed at any time.
Steps to Follow
As patients come in, or as payments are entered, check the family balance in the Account Module.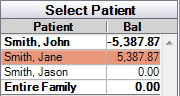 Select the guarantor.
Click on the payment dropdown and select Income Transfer.
Highlight all income sources on the right.
Click Transfer at the bottom.
Click OK.
Double-click on your newly created income transfer and backdate the procedure and payment dates to the date of your final conversion. This ensures the transfer will not interfere with the reports you are running that day.
See Income Transfer Manager for more details about this feature.
Resource: Post Conversion Checklist (PDF)