Set up a PPO Fixed Benefit Insurance Plan Type when the office is contractually obligated to reduce its fees as an in-network provider, and the insurance plan is paying a fixed amount.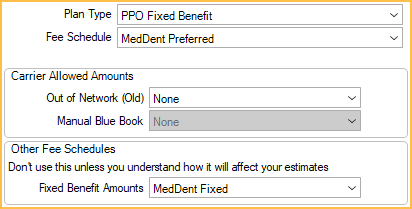 This insurance plan type calculates write-offs, includes the insurance portion, and rolls the remaining amount to the patient.
On the Insurance Plan, set the following:
Plan Type: PPO Fixed Benefit
Fee Schedule: The carrier's fee schedule.
Fixed Benefit Amounts: The plan's fixed fee schedule (Fee Schedules, FixedBenefit).
Note: The Fixed Benefit Amount box will only show if the Plan Type is set to PPO Fixed Benefit.
This plan will set all insurance categories to 100% coverage. Insurance estimates come directly from the Fixed Benefit fee schedule.
The patient portion is calculated using the following formula: UCR fee - Write-Off - Fixed Benefit amount
Write-offs are usually calculated using the following formula: UCR fee - PPO fee. The difference between the two amounts will be an automatic write-off.
If the PPO fee is higher than a provider's UCR fee, the PPO fees are used as the billed fees. To instead use the UCR fees, enable the Use UCR fee for billed fee even if PPO fee is higher preference.
To set how blank fixed benefit fee schedules are handled, see the Preference, Fixed benefit fee schedules treat blank entries as zero.
Claims will automatically show the provider's UCR fee, regardless of the status of the Claims show UCR fee, not billed fee setting in the Other Ins Info tab of Insurance Plan window.