In the Main Menu, click Setup, Chart, Procedure Buttons.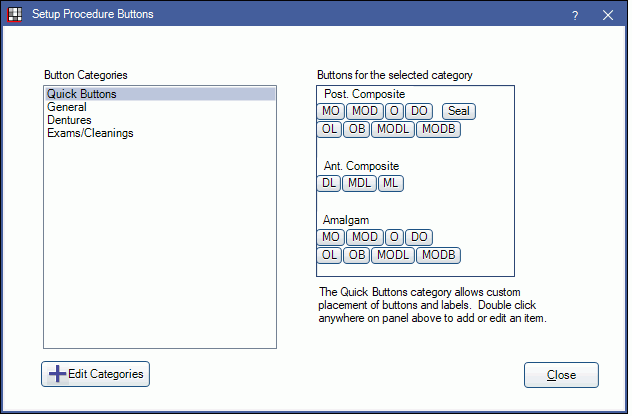 Procedure buttons allow you to quickly add your most common procedures to a patient's chart with a single click. They are located in the Chart Module on the Enter Treatment tab. Usually, you will simply select a tooth, then click a procedure button to chart the treatment.
There are two types of procedure buttons:
Quick Procedure Button: Designed to quickly chart fillings and sealants on teeth. Each quick button can be associated with one procedure, and if applicable, to tooth surfaces.
Procedure Button Edit: Can be associated with multiple procedure codes and auto codes.

See our video: Procedure Buttons, Quick Buttons, and Auto Codes Webinar.
By default, the Quick Buttons category is selected (see screenshot above). When another category is selected, the window will display as shown below.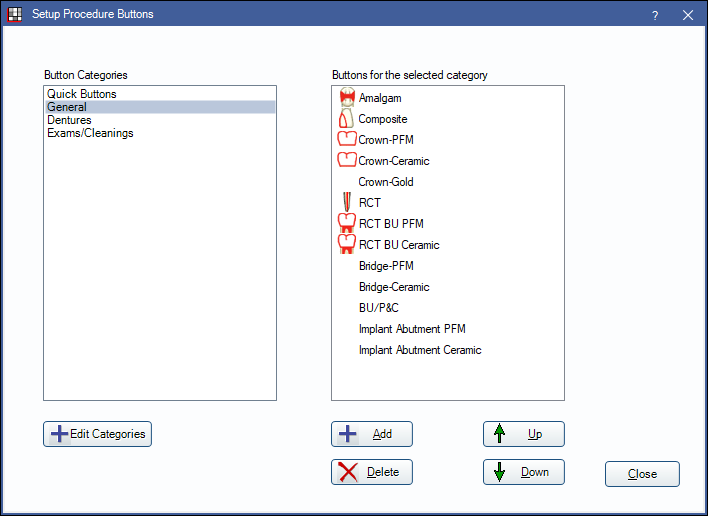 Edit Categories: Rename, reorder, or add new categories. See Definitions: Proc Code Categories.
Add: Add a new procedure botton.
Delete: Delete the selected procedure button.
Up / Down: Reorder buttons within a category