The Procedures Not Billed to Insurance report generates a list of procedures with an outstanding insurance estimate that haven't been attached to a claim.
In Standard Reports, in the Monthly section, click Procedures Not Billed to Ins.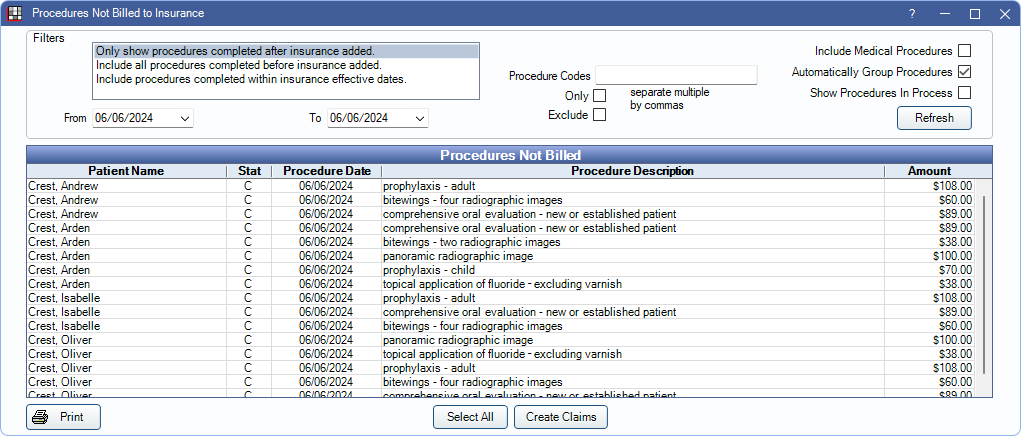 Alternatively, in the Send Claims window, click Procs Not Billed.
All procedures on this list should either be billed to insurance or marked Do Not Bill to Ins in the Procedure Info window. Procedures only appear if the procedure has a fee and the patient has an active insurance plan.
Report Criteria
Select the report criteria, then click Refresh to update the list. Right-click a patient to go to their account (the report can remain open while working in other windows).
From / To Dates: Today's date is the default. To change, click a down arrow, then select the report start date in the first calendar and the end date in the second calendar. To close the calendars, click an up arrow again or Refresh.
Show Procedures Completed Before Insurance Added: By default the report only includes procedures that were completed while the patient had insurance coverage. Check this box to include procedures that were completed before the patient's insurance was added.
Show Procedures in Progress: Check to view procedures with a status of In Process. These procedures must be Grouped for Multiple Visits.
Clinics: Filter by clinic. Click the dropdown, then highlight the clinics to include. Press Ctrl while clicking to select multiple clinics. Select All to include all clinics, including those that are hidden.
Include Medical Procedures: By default the report only includes procedures for patients who have dental insurance plans. To also include procedures for patients who have medical insurance, check this box.
Automatically Group Procedures: When checked and procedures for a patient have different clinics or place of service, claims for each clinic/place of service will be created. When unchecked, you will be blocked from creating claims when patient procedures have different clinic/place of service.
Create Claims
Claims can be created by going to the patient account, or creating the claims directly from this window.
Select All: Click to highlight all procedures. Alternatively, highlight specific procedures individually.
New Claims: Click to create a new claim for the highlighted procedures. User must have Procedures Not Billed to Insurance, New Claims button permission. The report will automatically refresh after each claim is created.
Highlight the procedures to create a claim for, then click New Claims. A message will indicate the number of claims that may be created.

Click OK to proceed. Another message will indicate the number of claims created.

Click OK to close. Claims can be viewed from the patient's account.
View Report
Click Print to print the report. For a description of toolbar buttons, see Complex Report System.