The Provider Payroll report is a Production and Income Report that can be used to determine a provider's net production and income
In Standard Reports, click Provider Payroll Summary or Provider Payroll Detail.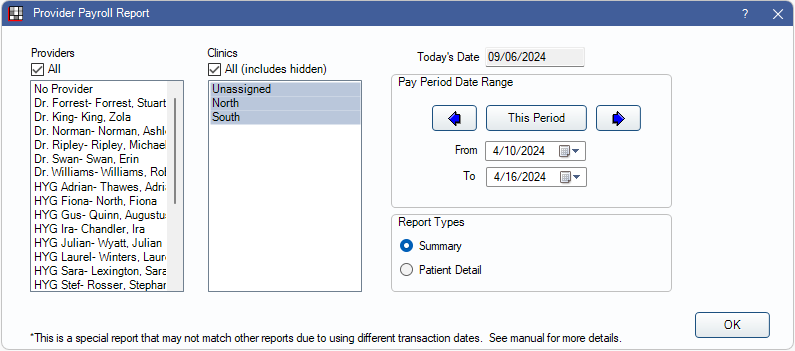 Some offices use this Production and Income Report to determine how much to pay their providers when the providers earn a certain percentage of net income. The calculations for determining production and income in this report were custom created for a specific use and may not apply to your office.
If you want to use this report:
Make sure the calculations that determine the values in the report apply to your office. See the column descriptions below.
Allocate all income (Insurance, Patient Payments).
The Provider Payroll report can list total production per day (Summary) or per patient (Patient Detail). The report types are hidden by default. To show these reports, see Report Setup: Display Settings.
Report Filters and Options
Providers: Select the providers to include, or check All to include all providers, including hidden providers, that have activity (i.e., production or income) in the reporting period. Unearned will include pay splits with an unearned type (not associated to a provider, such as prepayments). Typically, this report is run for one provider at a time.
Clinics: Select clinics to include in the report. Ctrl + click to select multiple clinics or check All (includes hidden) to include all clinics, including those marked hidden.
Filters by clinic assigned to the procedure (i.e., place of service).
If user is restricted to specific clinics, only accessible clinics will list. When checking All (includes hidden), results will include all clinics user has access to, including those marked hidden, and anything unassigned to a clinic; results do not include clinics user is restricted from.
Today's Date: Automatically populated with the current date for reference.
Date Range: Select the date range of the report. The default is based on the current Pay Period (see: Time Card Setup), if one is set up. Otherwise, it defaults to one week prior to today's date.
This Period: Reset dates to match current pay period.
Right/Left arrows: Move back or forward one pay period at a time.
Click the calendar icons to manually select a date range outside of preset pay periods or type dates manually. Offices without pay periods must use these options to change date ranges. This Period and Arrow buttons are only functional with pay periods.
Report Type: Select the report type. This will affect the report detail and columns presented.
Summary: Lists the total production per day in the date range for all selected providers.
Patient Detail: Lists production for each individual patient in the date range for all selected providers.
Report Preview
After setting report criteria, click OK to generate a print preview of the report. The screenshot below is an example of the Summary Report Type. Columns will vary depending on the report type selected. Descriptions of report columns are below. See the Examples section below for additional information on the different report types.
For a description of Toolbar buttons, see Complex Report System.

Each column is totaled at the end of the report.
Examples
Summary Report Type

The Summary Report Type includes the Day column and excludes the Patient column. Information is summed by date. Column totals are listed at the end of the report.
Patient Detail Report Type

The Patient Detail Report Type includes the Patient column and excludes the Day column. Information is summed by patient and date. A patient will show up on the report multiple times if they have production or income across multiples days of the reporting period. Column totals are listed at the end of the report.