Birthday Report & Postcards
This report is a list of all patients who have birthdays within a specific date range. You can also print postcards for each patient with a personalized message. There is also a birthday section in Laser Labels which prints sheets of labels.
Note: To control user access to this report, see Report Setup - Security Permissions.


In the main menu, click Reports, Standard.
In the Lists section, click Birthdays.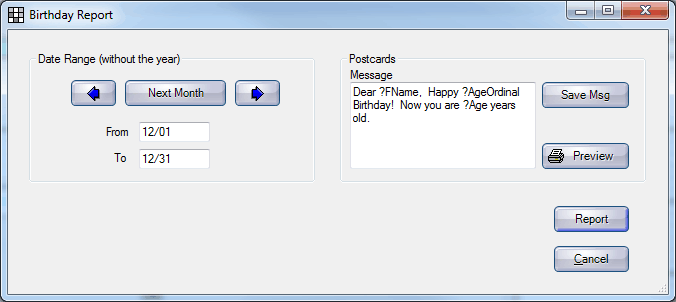 Select the report criteria.
Date Range: Select the from and to dates to include in the report. Click the arrows to move forward/back one month at a time, or click Next Month.

Message: Personalize the postcard message. Three unique keywords can be used. These will be replaced with patient information on the postcard.


?FName: patient's first name.

?AgeOrdinal: patient's ordinal age, e.g. 44th, 22nd.

?Age: patient's age, e.g. 44, 22.

Click Save Msg to save the message for later use.


To print postcards, click Preview to first generate the postcards. Then click Print on the preview window. For postcards, we have found FormSource to have good service and reliability. See their Open Dental Health Care Form Price List.




To generate a list of names, addresses, birthdates, and ages for patients with birthdates within the set date range, click Report.


This list can be printed or exported as a .txt file.
For a description of toolbar buttons, see Complex Report System.