In Dental School Providers, click Add, or double-click on an existing Student to edit.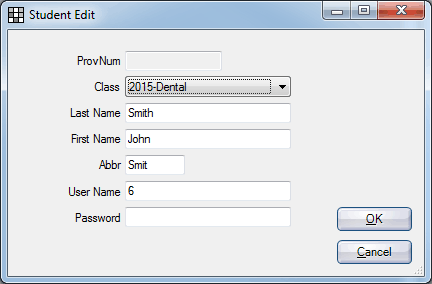 Dental Schools students are providers who can use Open Dental for charting, but may have restricted security permissions. You must create Dental School Classes and set the Dental School Setup before you can create student providers.
If you required you can filter providers in the Dental Schools Search by area:
Select the Class the student is part of.
Click the Students radio button.
Enter the student information:
ProvNum: Automatically generated by Open Dental once the student provider is created. Cannot be changed.
Class: The dental class of the student.
Last Name/First Name: The student's name as it will show in Open Dental.
Abbr: By default, the first four characters of the last name and first initial of first name are used. Can be changed and does not need to be unique.
User Name: Defaults to the student's ProvNum but can be manually changed.
Password: Enter a password of your choosing. If you return to this window later, the password field will be blank. To keep the password the same, leave it blank.
By default, this user will be assigned to the default user group for students.
Click OK to save.
Change Passwords: Students can change their own password via the main menu, File, Change Password.
Change operatory and appointment colors for students: See Dental Student Bulk Edit.
Editing Students: You can change student information following steps 1 - 2 above, then double clicking on the student. Or, to access the student's Provider, select the All radio button on the Provider Setup window, then double click the student.