Set up PaySimple to process credit/debit card transactions or ACH payments.
In Program Links, double-click PaySimple from paysimple.com.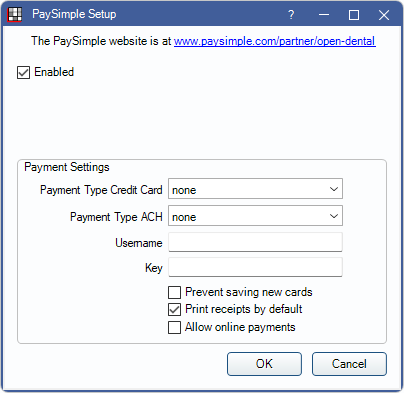 Alternatively, in the Payment window, right-click PaySimple and select Settings.
Enabled: Check to enable to PaySimple Program Link. Enter Payment Settings below.
Payment Settings:
Setup for Clinics
If using Clinics, PaySimple must be set up for each Clinic individually.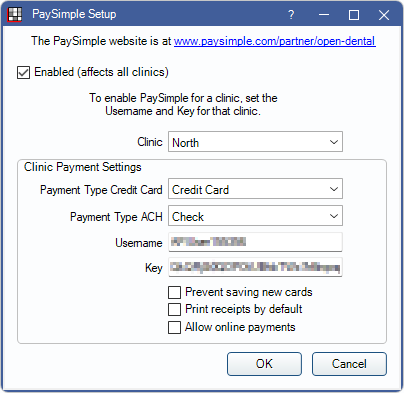 Enabled (affects all clinics) to enable PaySimple for all clinics. Unchecking disables PaySimple for all clinics. If the currently logged on user is restricted by clinic, only the clinic they have access to will show in the Clinic dropdown and they will not be allowed to uncheck the Enabled box.
Clinic: Select a Clinic from the dropdown to change Clinic Payment Settings. If the logged-on user is restricted to specific Clinics, only accessible Clinics are listed.
Clinic Payment Settings are the same as Payment Settings described above. Determine settings for the selected Clinic.