See Credit Cards, PaySimple.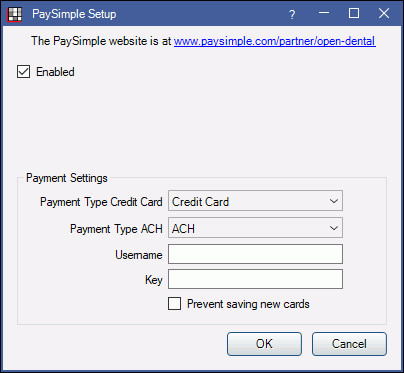 Set up PaySimple to process credit/debit card transactions or ACH payments, direct debit payments to a patient's checking or savings account. To set up different credentials for Clinics using different merchant accounts, see PaySimple Setup for Clinics.
Open the PaySimple Setup window. There are two options:
Check the Enabled box.
Set the default Payment Type for PaySimple transactions. Customize options in Definitions: Payment Types.
Enter the Username and Key supplied by PaySimple.
Prevent saving new cards: Determines whether new payment information can be stored.

Uncheck: Allow users to process or save new payment information to the patient's account.
Check: Prevent users from processing or saving new payment information.

Click OK.