Schedule Setup
Schedule setup lets you manage all Provider and Employee schedules. You can define individual work hours, holidays, lunch hours and staff meetings. Once schedules are setup, open/closed hours will be indicated in the Appointment module with the background colors set in Definitions, Appointment Colors. There is no concept of "default" schedules, because you can define any kind of rotating or alternating schedule you want.


Define the Schedule: Add employee and provider time blocks for a day, then copy, paste, repeat to fill the schedule.
Graphical Chart: A visual display of a day's schedule.
To view the schedule, in the Main Menu, click Setup, Schedules.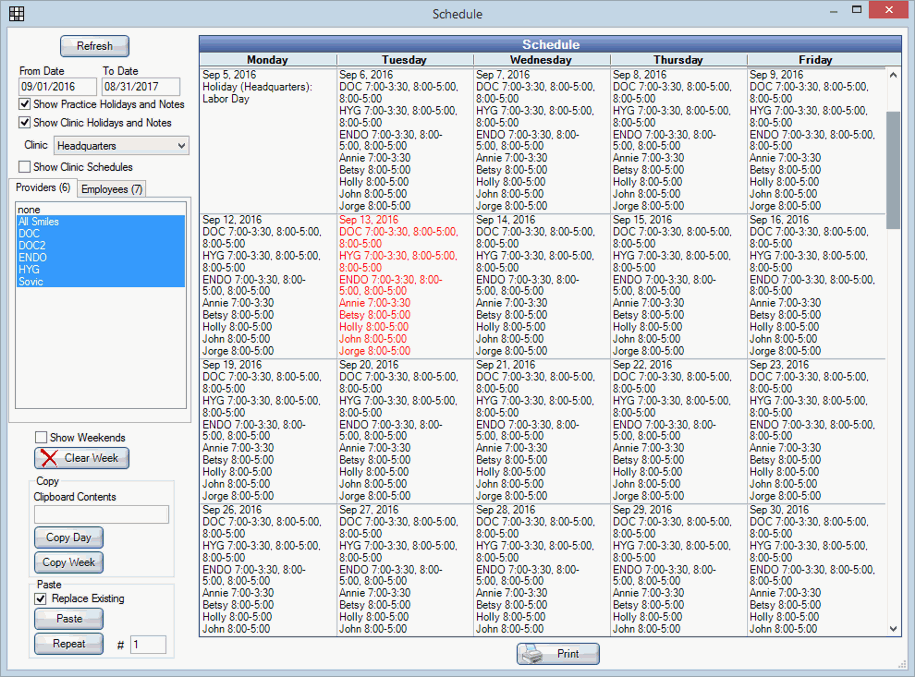 Each day is represented by one cell, and today's date and schedule is flagged in red text. As you enter schedules, each cell will reflect the changes/additions.
Filter Options: The following options can be used to control what shows in the schedule grid. If you change options, click Refresh to update.
From/To Dates: The date range displayed.
Show Practice Notes: Show notes entered on the Edit Day window.
Providers/Employees: Filter which providers/employee schedules show in the grid, or select which providers/employees will be affected by schedule changes. For example, when you click Clear Week, only the schedules of selected providers/employees will be affected. This is useful when you are only changing one person's schedule.
Show Weekends: Check this box to show Sunday and Saturday schedules. If weekends are hidden, then changes you make will not apply to weekends.
Clear Week: Delete all schedule entries, for the selected provider/employees, for the selected week.
To clear multiple weeks, you can also go to a blank week, copy it, then repeat it. Make sure the Replace Existing box is checked. (for example repeat it for 20 weeks to clear 20 weeks.)
Copy/Paste: Once you set a day or week's schedule, copy, paste, or repeat it to fill in the schedule. See Set the Schedule.
Print: Print the entire schedule.