In Billing, at the bottom, click Create List.
Batch Statements generated via the billing list can be printed, sent to an electronic billing processing service, or emailed directly from Open Dental.
Verify Billing (determines which statements are generated).
Select one or more clinics to filter the billing list by clinic, or select All to generate statements for all clinics. If All, optionally apply default billing filter options, dunning messages, and general messages to statements in the billing list (Use clinic default billing options).
Click Create List. All guarantors that meet the billing option criteria will list.
Sort and Filter Options:
Unsent/Sent: Toggle the list to view sent or unsent statements.
Order by: Sort statements by billing type or patient name.
Clinic: Sort by Clinics.
Start/End Date: Filter by statement date. Click Refresh to apply any date changes.

Other Options
Double click a statement to view the Statement Window.
Edit Selected: Edit several bills at once. Highlight the bills then click Edit Selected. Any changes affect all selected bills. To only change a single statement, ctrl + click a statement from the selection to edit.
Defaults: Opens limited view of Billing Defaults window in order to modify Electronic Billing credentials (e.g. password/username) without clearing the list of statements.
Print List: Print the list of bills (not individual statements).
Right click on a row and click Go To to select the patient's account. The bills will show as unsent statements in individual accounts. The billing list window will remain open.

Highlight the statements to send. By default all statements are selected. Click None to clear all selections or click All to select all rows again.
If emailing statements from Open Dental, select the Email From address.
Click Send. Statements will be generated and/or sent based on their Mode.

Email: To securely email statements, see Electronic Billing. Regular email is not a secure method of sending statements (PHI).
Email is a patient's default mode when their billing type is an email billing type (in Definitions: Billing Types, E has been entered for E = Email bill). These statements will be emailed directly from the Email From address. The statement will be attached to the email as a PDF (Adobe Acrobat) and the default email message will be used. If using Clinics and Practice/Clinic is the Email From, the email address of the patient's clinic is used. If there is no clinic email, the practice default is used (Email Setup). If a patient's email address is missing, that bill will be skipped and you will be notified.

Mail: The default mode for all non-email billing types (when electronic billing is turned off). These statements will be generated as one PDF file and previewed on-screen, sorted by clinic in alphabetical order by patient last name. Click Print to send the statements to the printer. Printed statements are designed to be printed on standard perforated billing paper and to fit inside a standard window envelope. Envelopes and billing paper may be ordered from many companies. We have found FormSource to have good service and reliability. See their Open Dental Healthcare Form Price List.

Electronic: The default mode for all non-email billing types when electronic billing is turned on. These statements will be sent to the electronic billing processing service.

InPerson: The mode for unsent statements generated from the Account module. These statements are generated as a PDF file then previewed on-screen. Click Print to send the statements to the printer.

To send an additional text message to patients when sending statements from the billing list, see Billing Options, Send text messages for these modes. The text message can optionally include a clickable URL that launches the Patient Portal Sign in window. See Online Payment Management.

Note:
Do not open other windows while sending statements. Doing so will cause sending to pause.
Once bills are successfully sent or generated, a confirmation message will show and a statement line item will be added to the guarantor's patient account ledger.
If sending electronic billing and you have opted to generate PDF copies of the statements, they will generate and save in each patient's Images module, Statement folder.
If a payment is posted to the account after the statement is generated, but before it is sent, aging will be updated but the dunning messages will not. This is typically not an issue if you send your statements immediately.
Billing Statement Progress
A progress window may display while sending, if the preference is turned on in Manage Module Preferences. This is useful for large offices that send many batches of statements an once. You an also set the number of statements in a batch.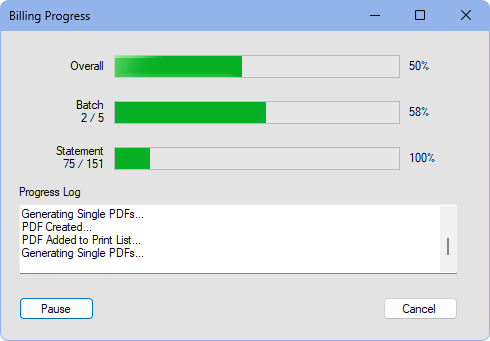 Overall: Indicates percentage of progress towards all sending statements.
Batch: Indicates percentage of progress towards printing the batches of statements.
Statement: Indicates the percentage of progress towards printing individual statements in the batch.
Progress Log: Displays a real-time log while statements are sending.
Pause/Resume: Click Pause to stop progress, finish the current statement to PDF, then send the current batch if applicable. Electronic billing statements will not be sent. Click Resume to keep sending statements.
Cancel: Finish the current batch and close the Billing Statement Progress window. The Bills window locks until the batch is finished. Electronic billing statements will not be sent.
Unsending Bills
If something went wrong during the printing process, you can unsend bills to reprint.
Click the Sent radio button at the top of the Bills window to show all sent bills.
Highlight all printed bills you want to unsend, then click Edit Selected.
Uncheck the Sent box. This setting will apply to all selected bills.
Click OK to return to the Billing List. Click the Unsent radio button to see all the bills. If you can't find the bill you are looking for, make sure the date range is inclusive enough.
Questions and Answers
How do I change the delivery mode for statements?
Highlight the statements you want to change, then click Edit Selected. On the Statement window, select the mode, then click OK. This will change the mode for statements in this billing list only. To permanently change the default delivery mode for a patient, change their billing type (Edit Patient Information Window) or change electronic billing settings (Billing Defaults).