The Billing Types definition determines the billing type options available in the Edit Patient Information and Edit Insurance Plan windows.
In the Main Menu, click Setup, Definitions, Billing Types.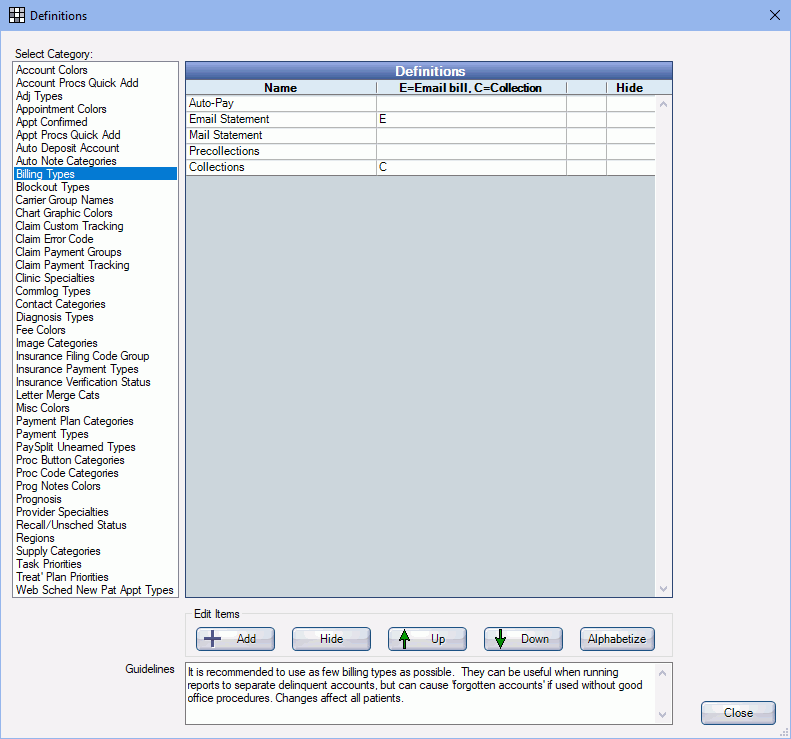 Create billing types to indicate how a patient is to be billed (e.g. email statements, send to collections, etc).
To add or edit available billing type options:
Double-click an existing item or click Add to create a new item. The Edit Definition window will open.

Name: Enter the billing type name.
Set the behavior of the billing type.
Enter E to email statements to patients assigned this billing type. Statements will be emailed when sent from the Billing List.
Enter C to send the patients account to Transworld Systems Inc. (TSI) for collections.
Leave blank for standard billing. Statements will be printed to be mailed or sent electronically if Electronic Billing is enabled.
Click OK to save.
While billing types may be hidden, if in use the billing type will still be visible in various areas through out the program. If the New patient primary insurance plan sets patient billing type, Family Module Preferences is checked, creating a new insurance plan will still change the patient's billing type to the hidden billing type.