CareCredit is a credit card for financing healthcare expenses.
In Setup, Program Links, double-click CareCredit from https://www.carecredit.com/.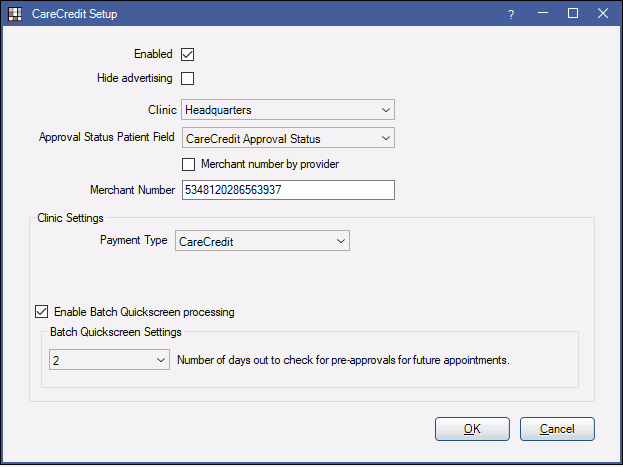 Setup the CareCredit program link to begin using the integration.
Enabled: Check to enable CareCredit.
Hide advertising: If not using CareCredit, check to hide CareCredit buttons in the Treatment Plan Module, Account Module, and Payment window.
Clinic: Only displays if Clinics is enabled. Select the clinic the settings apply to.
Approval Status Patient Field: Displays Batch Quickscreen Approval Statuses.
Merchant number by provider: Only displays when clinics is enabled. Check this box if the Merchant Number is by Provider.
Merchant Number: Unique 16-digit ID for the office. This number is provided by CareCredit. If using clinics, this number is the same for all clinics.
Clinic Settings: This heading only appears when clinics is enabled. When clinics is not enabled, these settings relate to the practice. When clinics is enabled, these settings relate to the selected clinic.
Payment Type: The Payment Type used for CareCredit transactions.
Enable Batch Quickscreen processing: Quickscreen is a way to check if a patient has been pre-approved for CareCredit. When enabled, a webservice will check if a patient is pre-approved. The webservice uses future appointments to know which patients to check. There is no way to turn this off for a specific patient. It is either all patients or no patients.


Note:

Only patients that have not had any completed transactions (purchase/refunds/Quickscreen) in the last 60 days will be sent for Quickscreen pre-approvals.
Users will need to accept or decline the pre-approval before the patient can process a CareCredit transaction. Users will be able to right-click on the appointment to accept or decline.
If Merchant number by Provider is checked, the provider on the appointment must have a merchant number entered.

Batch Quickscreen Settings: How many days in the future to check for pre-approvals. The default is 2. Options are 1, 2, or 3.
The Open Dental Service is required to receive CareCredit Alerts.
Click OK to save settings. If Quickscreen is enabled, and CareCredit Approval Status has not been added to an Appointment View, you will be prompted to add it.


Click Yes to quickly add the CareCredit Approval Status to Appointment views. The Appointment Views window will open.
Click No to continue without updating the Appointment Views. Views can be edited at any time.