In the Main Menu, click eServices, Patient Portal.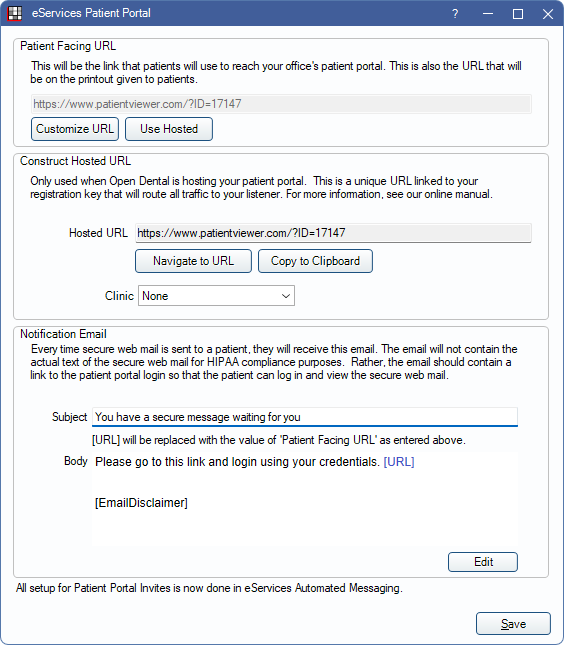 The Patient Portal Feature is hosted by Open Dental and available to all customers on support. The eConnector is required for Patient Portal to work.
Customize which features are enabled in Patient Portal Settings.
URLs
URLs determine the web address patients will use to access the patient portal and/or make patient payments. Patients can go directly to the hosted URL (generated by Open Dental) or to the hosted payment URL.
In Open Dental's main menu, click eServices, Patient Portal.
Patient Facing URL: The web address given to patients to access the portal. It can be the hosted URL, or, you can use a page on your own website that redirects the patient to the hosted URL. This URL shows on the printout generated when granting access.
Example: Patient facing URL https://www.opendental.com/login.html includes redirect code that sends the patient to the hosted URL https://www.patientviewer.com/?ID=abc123.
Hosted URL: The patient portal URL generated by Open Dental and linked to your registration key. Click Navigate to URL to open the URL in a browser. Click Copy to Clipboard to copy the URL to the clipboard.
Destination: Affects the Hosted URL.
Login Page: The Hosted URL will take patients to the Patient Portal Sign in page.
Make Payment: Adds &PAY=Y to the Hosted URL. The URL will then take patients directly to an area where they can make an online payment, without logging into the portal. Patients will still need to verify personal information and enter payment information. See Online Payment
Clinic: Affects the clinic name listed in the header on the Hosted URL destination. Click the dropdown menu or [...] to select the clinic.
Notification Email for Secure WebMail
The notification email subject and message are used to create un-secure email notifications that alert a patient when a new Secure WebMail Feature is available in the patient portal.
Subject: The subject of the email.
Body: The email message itself. Make sure to include the tag [URL]; it will be replaced with a clickable link to the Patient Facing URL when the message is sent. This will allow patients to quickly access the patient portal login page to view the secure message.

Example: The email message in the screenshot above will look like this:

Please go to this link and login using your credentials. https://www.opendental.com/login.html

Edit: Click to edit HTML of email message. See HTML Email for details on use.

Note: Edit Ram HTML option is not available for Patient Portal notification emails.
The email address set as WebMailNotify in Email Setup will be used to send WebMail notifications.
In the main menu, click Setup, Manage, Email.
Highlight the email used to send WebMail notifications, then click WebMailNotify. An X will show in the Notify column.
Click OK to save.
To set up Invites, see Patient Portal Invites.