In Sheets, double-click a Custom Sheet.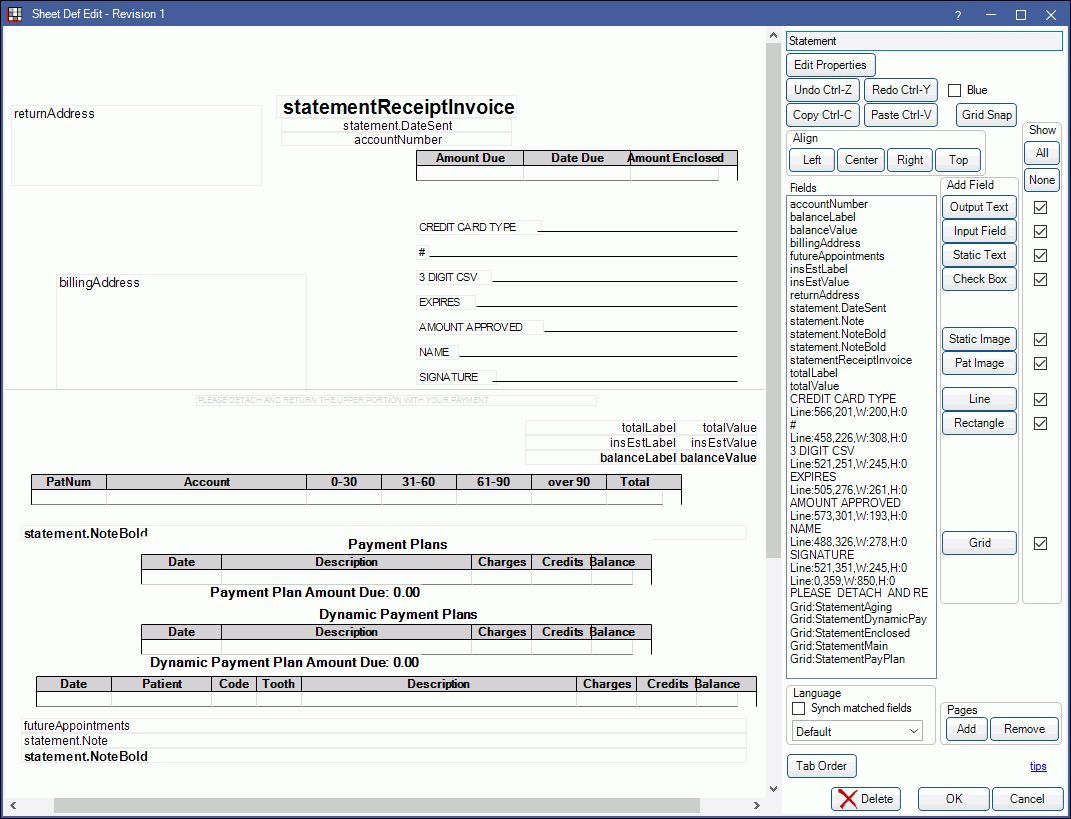 Statement, Invoice, and Receipt can be customized by setting up a Sheet with a Statement type. The same custom sheet will be used for all statements, invoices, and receipts, with only the title and relevant information changing depending on which document is generated.
Set up a Statement Sheet
The custom statement sheet listed first alphabetically in Sheets setup will be used. For example, if there are two custom statements named Custom Statement and Walkout Statement, Custom Statement will be used because it comes first alphabetically. If there is no custom statement, the internal sheet will be used.
Copy a sheet or create a new one.
Highlight the internal Statement sheet and click Copy. Then double click the custom statement.
Click New and create a new sheet with a Statement type.
Double click an existing custom statement to edit it.
Highlight an existing custom statement then click Duplicate to copy it.
Change the sheet as needed.
There are additional options that are only available for sheets with a Statement type. A few are described below.
Grids: There are five grids that can be added to a sheet.
StatementAging: Fixed information, cannot be changed.
StatementEnclosed: Fixed information, cannot be changed.
StatementMain: Column names, order, and size can be changed in Display Fields, StatementMainGrid.
StatementPayPlan: Fixed information, cannot be changed.
StatementInvoicePayment: Fixed information, cannot be changed. The grid will populate with payments attached to procedures on the invoice as well as unattached payments that were made on the same day.

This grid shows payments attached to procedures and payments made on the same day that are not attached to procedures. Changing a payment overrides the original amount on the invoice.
Payment Options: When adding Static Text Fields, there is an additional 'Is Payment Options' checkbox. When checked, this designates the field for inclusion when payment information is included in a statement, invoice, or receipt. The checkbox 'Hide payment options' on the Statement window determines if payment information is included or not.
Output Text Fields: See Sheet Output Text Field.