In the Payment window, right-click on XCharge. Select Settings.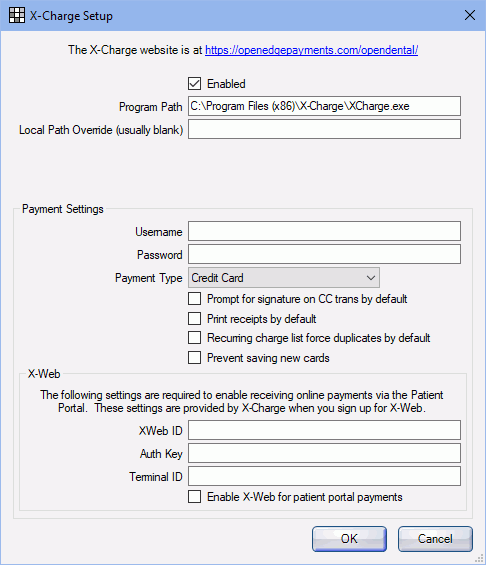 There are two additional options to access the X-Charge Setup window:
To set up different credentials for Clinics using different merchant accounts, see XCharge Setup for Clinics.
Contact XCharge to install the XCharge client program.
Check the Enabled box.
Enter the Program Path to the XCharge.exe.
Enter the Username and Password supplied by XCharge.
Select the Payment Settings:
Select the default Payment Type for XCharge transactions. Customize options in Definitions: Payment Types. To select a different type for CC Recurring Charges transactions, see Account Module Preferences, Payment type for recurring charges.
Check Prompt signature on CC trans by default to prompt patients for a signature on the credit card terminal before completing transactions. The terminal must support electronic signatures.
Check Print receipts by default to automatically print a receipt to the default receipt Printer when a transaction is completed.
Recurring charge list force duplicates by default: By default, duplicate charges to the same card, on the same day, for the same amount will be denied. This is to prevent accidentally charging a card twice. Check this box to allow duplicate charges on the same card by default. Used if family members have recurring charges setup on the same credit card.
Prevent saving new cards: Uncheck to allow users to process new transactions or save new payment information to a patient's account. Check to prevent users from processing new transactions or saving new payment information.
To enable Online Patient Portal Payments and/or Automatic Recurring Charges, enter XWeb settings.
Enter the XWebID (12 digits).
Enter the Auth Key (32 digits).
Enter the Terminal ID (8 digits).
Check the Enable X-Web for patient portal payments box (not required if only using Automatic Recurring Charges).
To set whether or not new credit and debit cards are saved to a patient's account after each transaction, see Account Module Preferences, Automatically store credit card tokens.
Installing X-Charge with a Terminal
Below are some points to consider based on a user's experience installing the XCharge server using a terminal.
Setup may take 1 - 2 hours plus follow-up.
When you call the XCharge help desk the first time, choose Install in the Touch Tone menu (not Tech Support).
Install XCharge as a Windows Service to prevent accidental shutdown of the XCharge program and/or server.
If capturing signatures, they will be stored on the workstation in your office that acts as the XCharge server. Make sure you have a backup plan.
Install the XCharge server on your central server; it does not need to be connected to a terminal. XCharge may want to set it up on a workstation connected to a terminal, but do not do this. This way you can organize your backups to save signatures along with other data on the central server.
On the terminal:

Debit cards have to be swiped and patient will key in the 4 digit pin, even if the cards have chips.
When a transaction is complete, a receipt will print (customer's copy). This receipt does not have the signature on it.
Completed signatures can only be accessed by running the XCharge utility.

ISC-250 terminal:

It can be customized to display your logo and a short message.
If a patient calls in a payment, the card number must be keyed into the terminal. If a workstation only has the XCharge software (and no terminal), the keyboard can be used.

Staff training is important. The EMV transaction process can be confusing due to the requirements of EMV technology.