In the Main Toolbar, click Select Patient.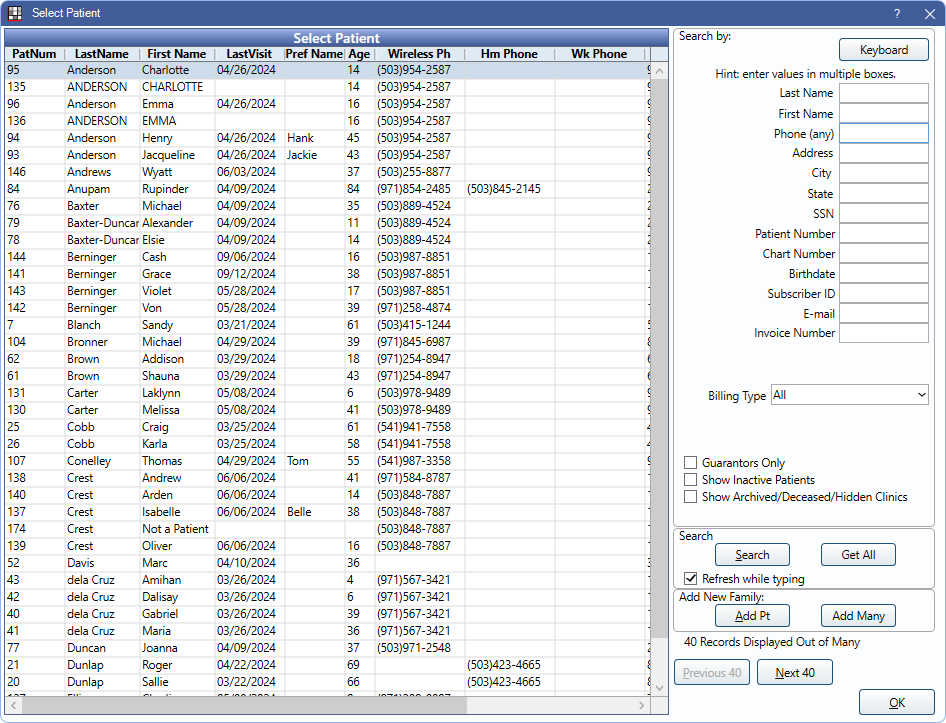 The name of the currently selected patient shows in the upper left title bar of Open Dental. Moving between modules does not change the patient.
Double-click on the patient row to select. The patient record will open in whatever module you began in.
By default, only one page of patients lists in the Select Patient grid at once. Names are sorted alphabetically by last name. The columns of information are customizable in Display Fields.
Keyboard: Click to use the built-in Windows keyboard.
Search by: To filter the list, enter criteria in the Search by area. You can search by one or many criteria, and enter information by typing or using the keypad.
First Name: By default this field searches patient first name only. To also search preferred name, see Miscellaneous Setup.
Billing Type: Options are defined in Definitions: Billing Types.
Site: Options are defined in the Site List.
Clinic: If using Clinics, filter the list to patients who are associated to a specific clinic as well as patients who are unassigned. Patients are associated to clinics when the clinic is their default or if they have any appointments in the clinic. The default selection is the clinic selected in the main menu.
Guarantors Only: Only list guarantors.
Hide Inactive Patients: Exclude patients with a status of Inactive.
Show Archived/Deceased/Hidden Clinics: Show patients that have a status of Archived or Deceased, or whose default clinic is marked hidden.
Show Merged Patients: Show patients who have been merged into another patient. Option only displays if Show Archived/Deceased/Hidden Clinics is checked.
Note: Only full string matches will display, with exact matches listing first. If you search for "cott", only results that start with "cott" will display (e.g. Cotter). Results that include "cott" mid-string will not (e.g. Scott).
Search: Use this to see filter results when Refresh while Typing is not selected.
Get All: List all patients (more than 30) that meet the search criteria and activate the vertical scrollbar. When this option is clicked, all patients that match the string of characters entered as search criteria (including mid-string characters) will show. Next Visit and/or Last Visit dates will not be visible when all patients are listed.
Refresh while Typing: If checked, as you type criteria the patient list will automatically refresh with matching results. The setting affects this workstation only.
Add New Family: You must always search for at least patient last name to see if a patient record exists. If it doesn't, you can add a new patient record using one of the following options:
Note: Birth dates entered on select patient window automatically carry over when adding new patient(s).
Select Patient Dropdown
Another way to select a patient is by clicking the Select Patient dropdown in the Main Toolbar. The last five patients selected will show, as well as all family members associated with the current patient. Click on a name to select.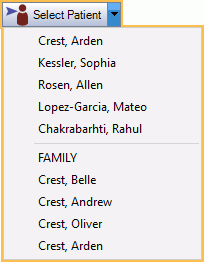 Other Options
Click on a different family member in the Family module or Account module.
Click on a patient's appointment.