ERA 835, also known as Electronic Remittance Advice format, is an electronic explanation of benefits (EOB) that can be electronically downloaded.
In the Manage Module, click ERAs.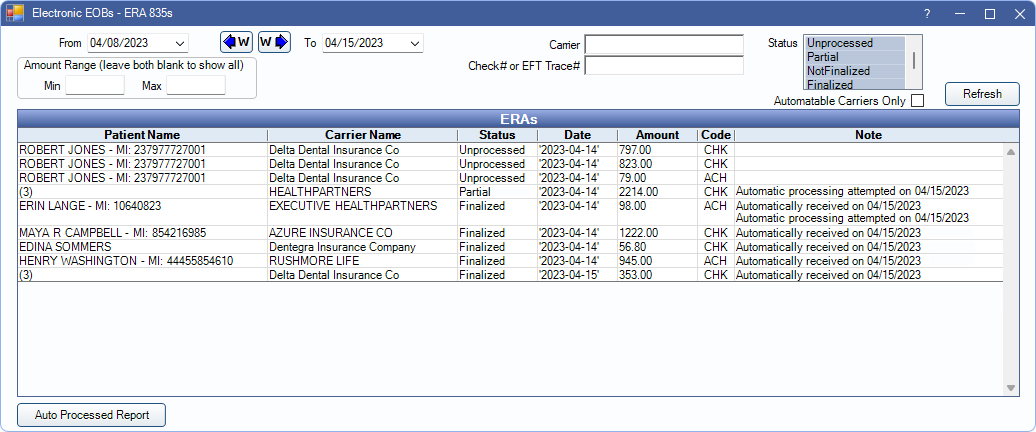 Automatic or manually downloaded ERAs can be used to auto-populate insurance paid amounts in to claims to finalize insurance payments.
Set up Requirements
To start using ERAs, sign up for ERAs with your clearinghouse and participating insurance carriers.
Some setup is needed in Open Dental to enable ERAs. These steps should be performed on your server. If you have not setup your clearinghouse in Open Dental, see Clearinghouse Setup.
Ensure the Open Dental Service is installed and running.
In Clearinghouse Setup, check Receive Reports by Service
In Clearinghouse Setup, double-click on your clearinghouse. Ensure Download ERAs is selected and that there is a designated report path. (i.e. C:\ClaimConnect\Report\).
Ensure users have Permissions for Insurance Payment Create.
In the Send Claims window, click Get Reports, select your clearinghouse, then check for a successful connection to your clearinghouse server.
(Optional) Enable ERA Automation (automatic processing) in Manage Module Preferences.
Managing ERAs
Use the Electronic EOBs - ERA 835s window to view and manage ERAs. Claims will be matched with an ERA and if one is not found, you will be prompted to find the correct claim (see ERA Match with Claim).
Use the filter options to change the ERAs listed in the ERAs grid. Click refresh after each change. Filter options may change based on Enterprise Setup Manage settings.
ERA Grid: Double-click on a claim to Process and view EOB Claim Details.
ERAs can also be viewed and processed via the Insurance Claims window, History grid (see Send Claims).