The PayConnect Payment Information window opens when you click PayConnect on the Payment window or Edit Insurance Payment window to process a credit card payment, void, or return.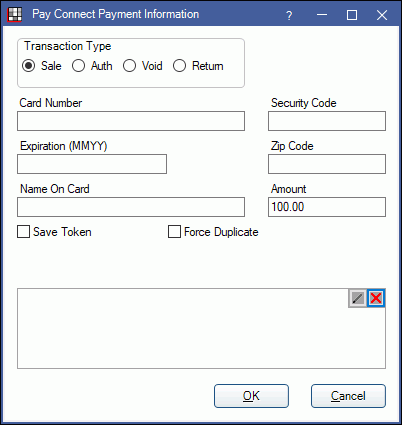 Transaction Type:
Card Number: Place the cursor in the field then swipe the credit card, or type the credit card number.
Security Code: Enter the security code from the back of the credit card. When the card is swiped the security code will auto-populate.
Expiration (MMYY): Enter the credit card expiration date. When the card is swiped the expiration date will auto-populate.
Zip Code: Enter the zipcode of the cardholder's billing address. When the card is swiped the zip code will auto-populate. When using a card on file, the zip code stored in Credit Card Manage auto-populates this field.
Name On Card: Auto-populates with the selected patient's name, or, when the card is swiped, the cardholder's name.
Amount: The purchase amount entered in the payment window. To edit, cancel the transaction and enter the correct amount in the payment window.
Save Token: Securely store the credit card number and expiration date as a token for future use. Set the default in Account Module Preferences, Automatically store credit card tokens.
Force Duplicate: Determines if a transaction on the same card, for the same amount, on the same day may be approved. Check to allow a duplicate transaction, uncheck to decline duplicates. Set the default in PayConnect Setup.
Signature Box: Patient may sign the transaction (optional) and the signature will be stored with PayConnect. See Electronic Signatures for signature capture options.