In a Payment Plan, at the bottom, is a Sign & Print button.

Terms for Payment Plans can be electronically signed by the patient and printed. Electronic Signatures are only an option when using a custom printed payment plan layout that has a signature box. See Payment Plan Layout.
Electronically Sign Terms
When using a custom Payment Plan Sheet that has a signature box, the terms can be electronically signed before printing or saving. Pay Plans use Sheets must be checked in the Account Module Preferences.
After the initial setup is complete, a Sign & Print button will appear below the amortization schedule on both the Payment Plan and Dynamic Payment Plan.
Click Sign & Print to preview the payment plan terms and electronically sign.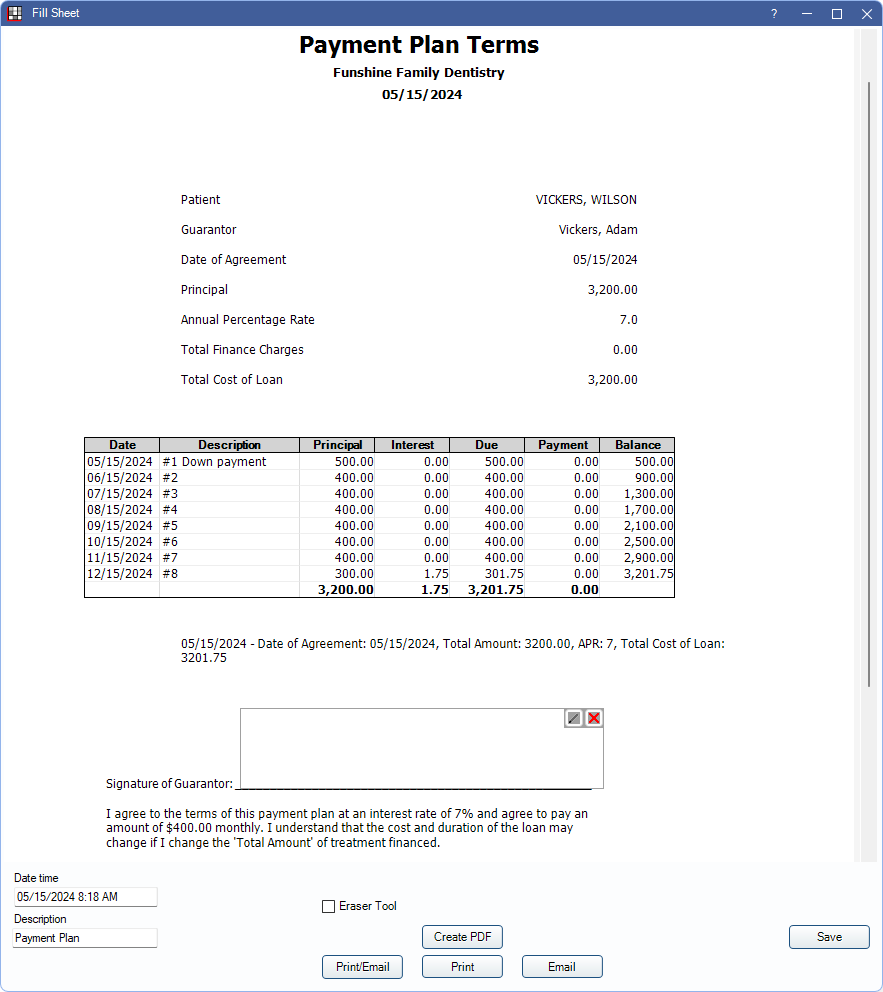 Note: For Dynamic Payment Plans, if Await procedure complete is selected, the scheduled charges for treatment planned procedures are to be determined (TBD) and the interest and due amounts are not yet calculated. When Pay Plans use sheets is enabled, the charge Date, Interest, and Due will show TBD. When not using sheets, the Date will be blank, and the Interest and Due amounts will show zero. Once the procedure is set complete, the scheduled charges will update.
Sign the terms.
Click a button to save, print, email the terms.
Create PDF: Preview and save a PDF copy of the terms. The PDF is only viewable by clicking View & Print in the Payment Plan.
Print/Email: Print and/or email the terms to the guarantor and save a PDF copy in the Images module.
Save: Save a PDF copy in the Images module.
Cancel: Close the window without saving.
PDF versions of saved payment plans are saved in the Images module in the folder designated for payment plans (Definitions: Image Categories).

Signatures can be invalidated if terms are changed, the layout of the sheet changes, the patient name (first, last, or preferred) changes, the payment plan note is edited, or if a Dynamic Payment Plan is closed before it's paid off.
If a signature is invalidated, it can be re-signed:
Click View & Print.
Click Unlock to unlock the sheet (Sheet Edit security Permission required).
Click X to clear the invalidated signature.
Sign the terms.
Print Terms (without signing)
If using the classic payment plan layout, or an electronic signature does not exist on the custom payment plan sheet, a Print button shows below the amortization schedule. Click Print to preview the terms.