Emails can be sent to patients directly from the Open Dental program.
In the Main Toolbar, click Email.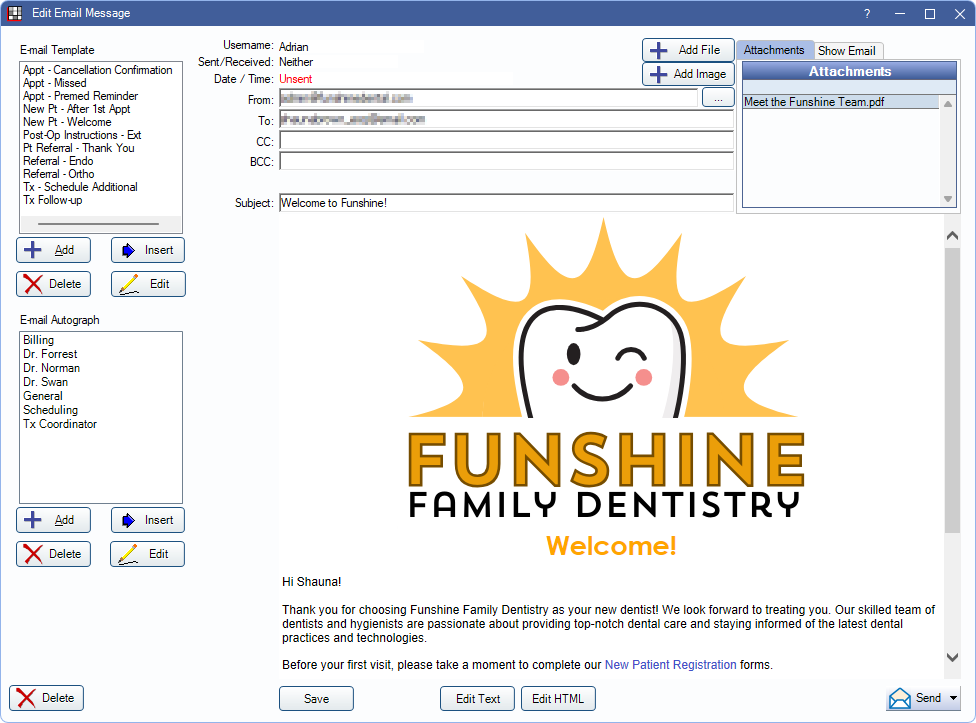 Alternatively, email can also be sent using these methods:
Edit Template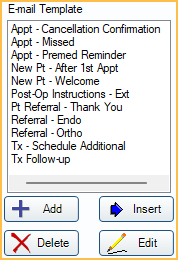 To insert Email Templates, select it and click Insert. The template's subject and message will replace any existing text (including autographs) and associated attachments will be added.
E-mail Autograph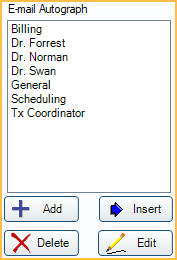 Select an E-mail Autograph from the list and click Insert to add it to the end of the email. Plain Text Autographs are inserted automatically. Autographs with HTML formatting can only be added via the Email HTML Edit window.
If the From email address is associated to a Plain Text Autograph, it is added to the email automatically. If the From email address is associated with an HTML Autograph, the Autograph will be appended to the email when sending.
Email Addresses

Attachments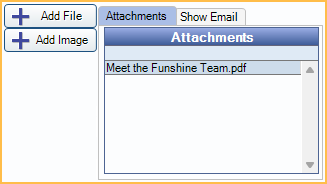 Attach files to the email. Click Add an attachment. You will be prompted to locate and select the file.
If images and documents are stored in a local or network folder (see Data Paths Setup), a list of all images in the selected patient's A to Z folder on the local or network folder will display first. Locate the file and click Open to select it.
If images and documents are stored in Dropbox, a Select Files window will open listing all images in the selected patient's Dropbox A to Z folder.
Right-Click Options:
Open: Open the selected attachment.
Rename: Rename the selected attachment.
Remove: Remove the selected attachment from the email.
Double-click a file to view it.
Show Email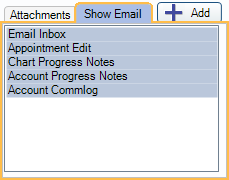 Select where in Open Dental an individual email will show or not show. To show the email in an area, highlight it. To hide the email in the area, deselect it. By default, all areas are selected.
To view emails that have been hidden in all areas, go to the Email Client and check Show Hidden Emails.
Subject and Body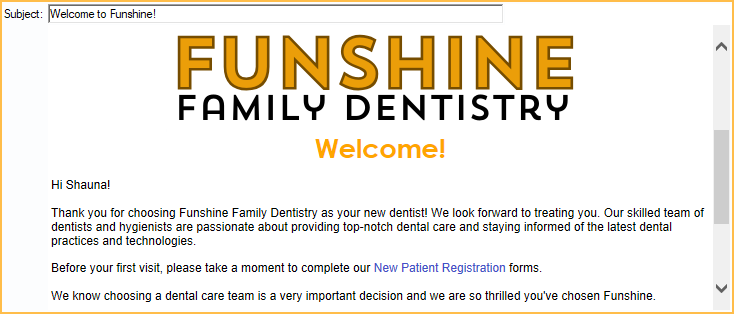 Subject: The subject of the email message.
Body: The message text. If an Email Autograph is associated with the From address, it is inserted by default. If the autograph is associated to multiple email addresses, the autograph listed first is inserted.
Buttons

Delete: Delete a sent email from Open Dental. It will remain on the mail server, but will not download again. Emails attached to a patient, once deleted, are removed from the Sent Messages tab, yet still visible in the Commlog and Progress Notes. Emails not attached to a patient are permanently removed.
Save: Save an email without sending. Saved emails are attached to a patient list in the Chart module and Commlog. If Open Dental shuts down unexpectedly, emails that are in progress are automatically saved.
Edit Text: Edit the message using basic plain text.
Edit HTML: Edit the message using HTML coding (for images, fonts, etc.) See HTML Email for more information.


Note: If you have edited a message using Edit HTML, clicking the Edit Text button will switch to using plain text formatting. However, the HTML tags will not be stripped from the message automatically and you may need to delete them before sending.

There are three options for sending an email. The default button may change, depending on setup. Click the dropdown to see additional options.

Send: Send a regular, unencrypted, email. This option is the default if Secure Email is not enabled.
Send Secure: Send using Secure Email. This option is the default if Secure Email is enabled. See Secure Email Setup.
Direct Messaging: Sends an Encrypted Email. (see Email Encryption Options) Regular email is not a secure method of sending PHI. Encrypted email must set up for the sender and the recipient must be a trusted source. If you experience issues sending encrypted email, it can be a permission issue. Try running Open Dental as an administrator.
Click Cancel to close the Edit Email Message window without saving changes.
Digital Signatures
When sending encrypted email, a digital signature is sent with the message. To view signature details, click Sig.
Sent Emails
Double-click a sent email preview to launch the email in a new window. The message contents are read-only.
Delete: Click to delete the email from Open Dental.
Save: Click to save changes to the Show Email tab.