In the Main Toolbar, click Text.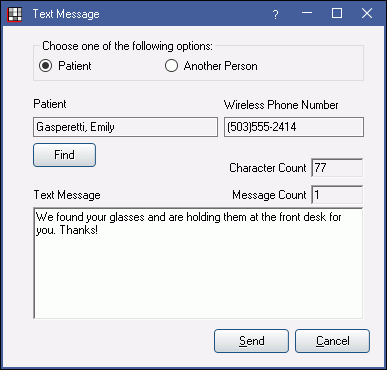 General text messages can be sent from Open Dental to both patients and non-patients. Before sending, first sign up for Integrated Texting and set monthly limits.
If a patient's Text OK setting is currently No, a message will prompt you to change the setting to Yes. Click Yes to change the setting and proceed.
Select Patient or Another Person.
If patient, verify the patient name and number. To select a different patient, click Find. Phone number automatically populates with the patient's wireless phone number. If another person, enter the wireless phone number.
Enter the text message.
Click Send.
A commlog entry is automatically generated for text messages sent to a patient. Set the default commlog type for text messages in Definitions: Commlog Types.
Messages can also be sent from the Text Messaging Mailbox.
If the monthly texting limit is reached, you will be prompted to increase the limit. See SMS Warning Amount.
Note:
Before sending a text message to a patient, enter their wireless number on the Edit Patient Information and set their Text OK status to Yes.
Text messages are not a secure method of sending PHI.