In the eServices Setup window, click New Patient.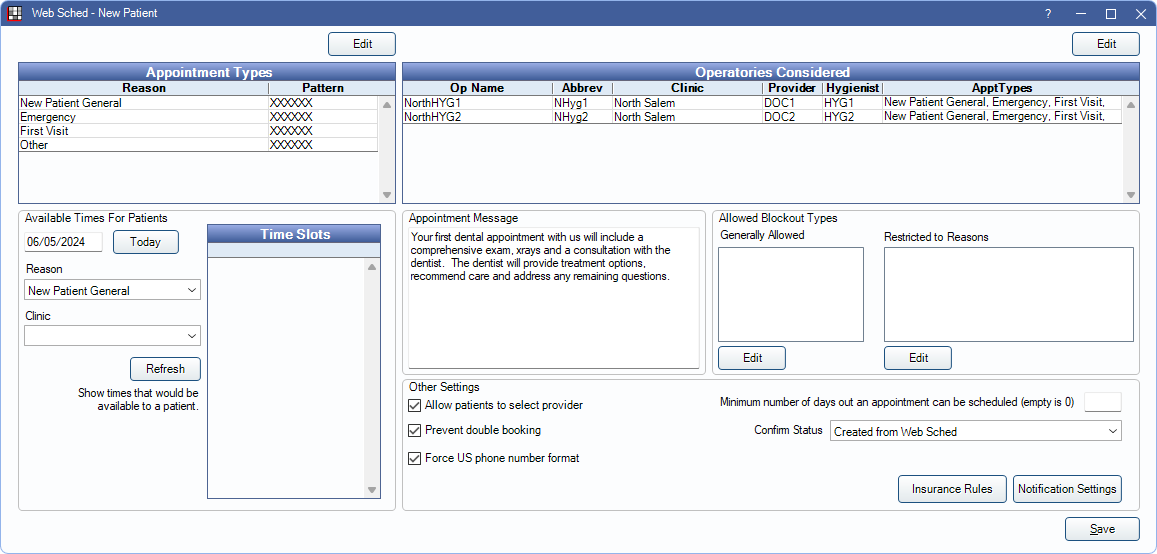 General Steps:
Sign up for Web Sched New Patient.
Set up Appointment Types for Web Sched New Patient appointments.
Set up Operatories that need to be considered for Web Sched New Patient appointments.
Verify other options that affect appointments (appointment message, allowed blockout types, etc.).
Define the Hosted / Scheduling URL options and advanced settings for each location See Web Sched Advanced.
Provide patients a way to access the Scheduling URL.
Patient Requirements: In order to schedule a new patient appointment using Web Sched New Patient, patients must meet the following requirements:
A patient record cannot already exist; patient must be new. Patients match by first name, last name, and date of birth.
Patient must be 18 years of age or older, or a parent/legal guardian must confirm they are scheduling on a minor's behalf.
Appointment Types
These Web Sched New Patient Appointment Types determine the reasons patients can select for their appointment, as well as the appointment's procedures, length, and time pattern
Double-click the grid to open Definitions: Web Sched New Patient Appt Types. Edit reasons and the appointment types associated.
Operatories Considered
Lists the operatories considered for available time slots. Only operatories associated with New Pat Appt Types are considered.
Double-click the grid to open Operatory Setup.
Available Times for Patients
This area offers a preview of up to one month of open time slots for a location, based on the current settings.
Date: Enter the first date to preview or click Today to insert today's date.
Reason: Select the Reason / Appointment Type to preview.
Clinic: Select the location to preview.
When there are multiple operatories with openings at the same time, an appointment will be scheduled in the operatory on the farthest left of the schedule.
Appointment Message
This message is intended to provide useful information to patients and will display when the appointment is being created. Click in the message to customize it.
The default message is: Your first dental appointment with us will include a comprehensive exam, xrays and a consultation with the dentist. The dentist will provide treatment options, recommend care and address any remaining questions.
Other Settings
Allow patients to select provider: When more than one provider has available openings, allow patients to select a provider. To add provider descriptions and photo that will be visible to the patient, see the Provider, Web Sched tab.
Prevent double booking: Check to block double booking of appointments, even if Appointment Rules would permit it.
Force United States phone number format: Determines the required phone number format. Check to force the United States format of 1- digits (XXX-XXX-XXXX). Uncheck to allow the patient to use any phone format.
Minimum number of days out an appointment can be scheduled (empty is 0): Enter the number of days in the future to search for the first available openings. Leave blank to include all available openings. For example, when 5 is entered, the first available opening offered to a new patient will be five days in the future. When left blank, an opening in the next 30 minutes could be offered.
Confirm Status: Select the Confirmation Status to apply to all appointments scheduled using Web Sched New Patient. The default is Created from Web Sched.
Notification Settings: See Web Sched Notify Setup.
Allowed Blockout Types
By default, Web Sched New Patient does not consider Blockouts as available time. However, you can allow scheduling on top of specific blockout types.
Allowed Blockout Types:
Generally Allowed: Lists blockouts that you allow to be scheduled over. Click Edit to add blockout types.
Restricted to Reasons: Lists blockouts that have been restricted to a Web Sched New Patient Appointment Type. Click Edit to add blockouts. When restricted, the selected appointment types can only be scheduled over the associated blockouts.
Web Sched New Patient Logic
Below are additional details and information that affect Web Sched New Patient appointment openings, provider assignment, and appointment details.
New Patients: Before allowing a patient to schedule a new patient appointment, Web Sched verifies that a record for the patient doesn't already exist.
First it checks for a matching last name, first name, and birthdate. If no match, patient can schedule.
If a match exists, Web Sched compares the entered email address to the email address of all family members for whom a record exists. If no match, patient can schedule.
If a match exists, Web Sched compares the entered phone number to the phone number for all family members for whom a record exists. If no match, patient can schedule. If a match exists, patient cannot schedule.
Providers: Providers are assigned based on the operatory the appointment is scheduled in. It is important to assign a default provider to the operatory and/or assign the operatory to the provider's schedule time block. Providers cannot be marked as Not a Person in the Provider Edit window.
When a provider's schedule is not assigned to a specific operatory, Web Scheduling will consider all Web Sched operatories where they are a primary provider as open for scheduling. This can result in appointments being created in operatories that appear to be closed.
Available Appointments:
Up to 3 months of available openings will be available for scheduling.
The provider's Schedule Setup affects available openings. (Patients can't schedule appointments 2 months in the future if there is no schedule set 2 months out).
The appointment schedule's time increment affects appointment start/end.
In Open Dental
Troubleshooting